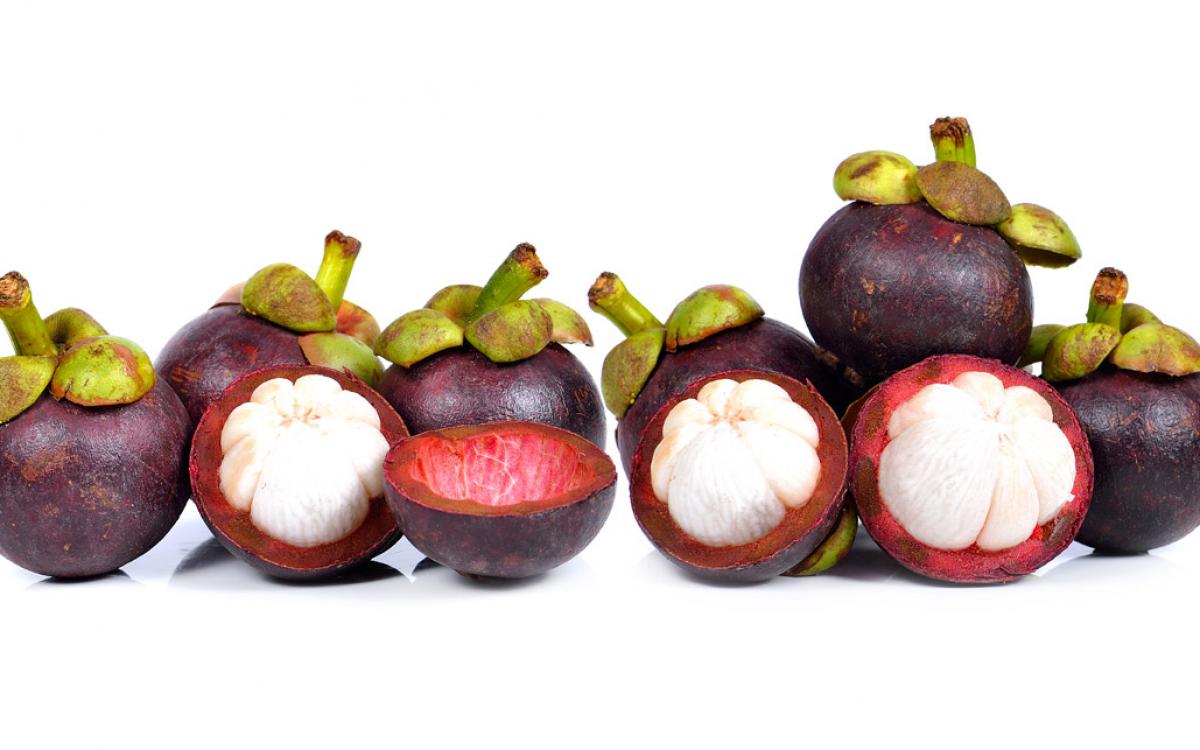 Exotically different mangosteens
Posted on Mar 13, 2018 | Tags: fruit and vegetables, mangosteens, tropical fruit, exotic fruit
If you have ever travelled through South East Asia, you have probably seen or enjoyed the exotically different mangosteen. Its subtle, delicate, sweet-acid taste is refreshingly different and unlike other fruits.
Mangosteens are round with a 4cm-8cm diameter and have a thick purple coloured, leathery casing topped with a green crown and attached stem. The fruit weighs between 50 grams – 150 grams.
When you remove the leathery casing you will discover an attractive pearly white flesh that is divided into four to seven segments. One or two of these segments usually contains a brown almond shaped seed about 20-25mm long. Compared with other tropical fruits, mangosteens have a smaller edible portion with only 30% of the fruit's total weight being edible.
Originally from Malaysia and Sumatra, mangosteens are fondly referred to as the "Queen of the Tropical Fruits." Indicating how prized this unique fruit is.
According to folklore, Queen Victoria was once made aware of a divinely delicious purple fruit, which grew in faraway Southeast Asia. The Queen made a declaration that she would bestow a knighthood on anyone who would bring it to her. Apparently all efforts failed as in the 19th century, the journey from Southeast Asia took months and the delicate nature of the mangosteen meant it invariably spoiled before reaching Britain.
Mangosteens were introduced to Australia in the 1940s; however attempts to grow the fruit in NSW and southern Queensland were not initially successful. It was not until the 1970s when new cultivators were imported and fruit was grown in the tropical north of Queensland that mangosteens were first grown in commercial quantities and available through your local greengrocer.
Slow growing, mangosteen trees can take 8 or more years before they start bearing fruit. The trees grow best in wet tropical climates so today most fruit grown in Australia comes from Far North Queensland or around Darwin.
To enjoy a mangosteen you will firstly need to peel the fruit by cutting around the circumference of the leathery casing using a small sharp knife. Be sure to penetrate the shell only and avoid cutting through the flesh. Twist the shell in opposite directions to remove one half, then carefully peel the remaining shell from the fruit. Mangosteens can be eaten fresh, as a healthy fruit snack, or teamed with other tropical fruits in salads or on a fruit platter.
Tip
Care should be taken when eating fruit as the skin pigment can stain.
Good for you
Mangosteens are rich in antioxidants, high in calcium, phosphorus and vitamins B and C.
Select
Mangosteens do not ripen further once harvested. Select mangosteens with minimal skin imperfections or without major discolouration. A fresh green stem indicates good quality fruit. Avoid if fruit is very hard. Fruit should yield when pressed gently.
Store
Mangosteens will keep for a few days without refrigeration. Refrigeration causes cold damage. To minimise this, wrap fruit in newspaper and store it in the upper part of the refrigerator.
In Season
Australian grown mangosteens are in season from November to March with the peak of the season around February. However this year the season started late and mangosteens will be available in April.