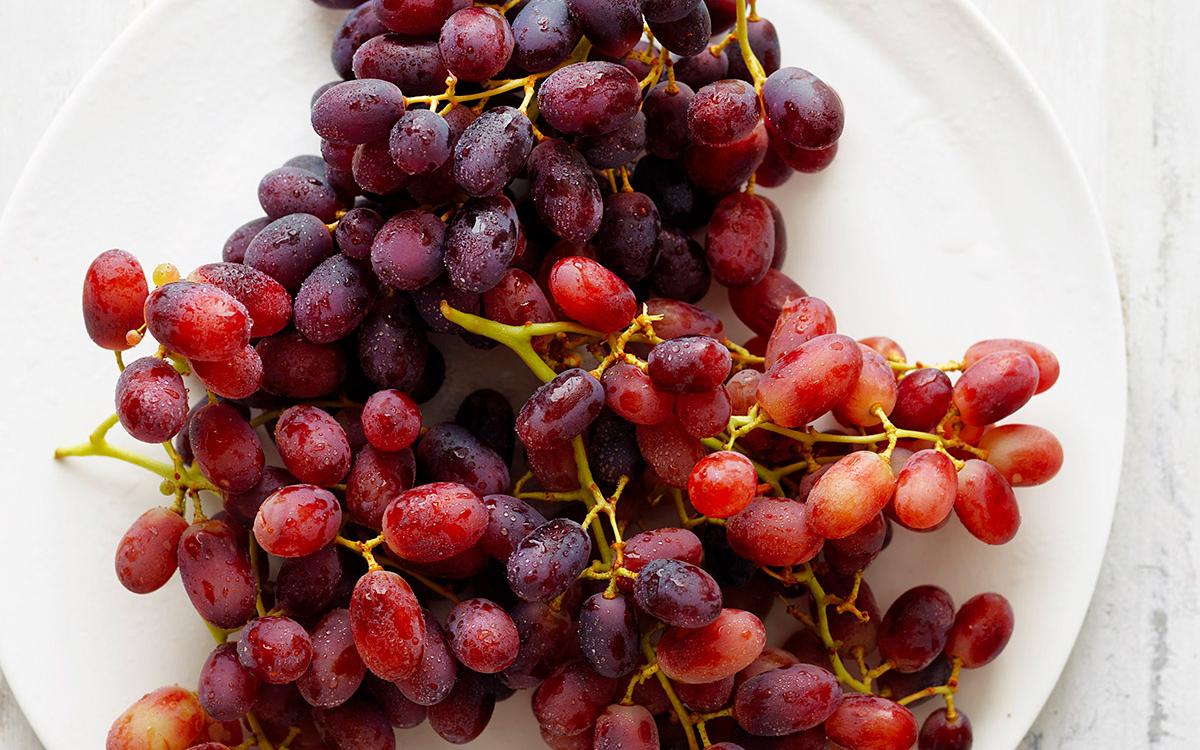 How to roast grapes
Posted on Mar 13, 2018 | Tags: grape salad, roasted grapes, grape varieties, types of grapes, fruit and vegetables
There's nothing like a bunch of crisp chilled, glistening grapes as a snack or to compliment a rich cheese platter, but how about heating things up? And what's hot this season is grape salads with roasted grapes. Roasting grapes really accentuates their sweet flavour, adding syrupy vibrancy to leafy green salads, cheese boards and natural yoghurt.
The natural sugars found in all grape varieties not only add an explosion of flavour, they're also low GI, giving you long-lasting energy.
Serve roasted grapes in salads, on a cheese board, with roasted pork , turkey and chicken or simply as a healthy snack.
How to roast grapes ...
Preheat oven to 200°C fan-forced.
Wash a large bunch of seedless red grapes in cold water. Drain then pat dry with paper towel.
Cut the bunch into small clusters and place onto a baking tray lined with baking paper. Lightly spray or brush grapes with olive oil.
Roast grapes for 15 to 20 minutes or until just tender. Set grapes aside to cool slightly before serving.
Roasted rocket & prosciutto grape salad
Prep time: 15 mins | Cooking time: 20 mins | Serves 4 | Side dish or lunch
350g purple seedless grapes, washed & dried
Olive oil cooking spray
12 thin slices of prosciutto
50g rocket leaves
125g Persian feta, drained and roughly crumbled
1/3 cup walnuts, roasted
Extra virgin olive oil, to serve
Sourdough bread, to serve
Preheat a fan-forced oven to 200C.
Cut grapes in small clusters and place on a baking tray lined with baking paper. Lightly spray with oil.
Roast for 15-20 minutes until very tender. Set aside to slightly cool.
Arrange prosciutto, rocket, roasted grapes, feta and walnuts on your plate. Drizzle with extra virgin oil. Season with pepper to taste. Serve with fresh sourdough bread.
Popular Australian grown grape varieties
| | |
| --- | --- |
| Crimson Seedless | Light red, oval-shaped grape with a thick skin, crisp flesh and a sweet juicy flavour. Available from February to May. |
| Black Muscat | Medium-sized, round, black, seeded grape with a beautiful, fruity-floral flavour with a soft juicy flesh. Available from December to March. |
| Flame Seedless | Red, round grape. Firm, crunchy texture. Available February and March. |
| Menindee Seedless | Light green to yellow, oval-shaped grape with a firm flesh. Seedless and sweet. Available January to May. |
| Red Globe | Very large, round grape with crisp pink skin. Firm with large seeds, fleshy pulp with a sweet flavour. Available from December to May. |
| Midnight Beauty | This large, seedless, black skinned grape has a delicious crisp texture and extremely sweet and juicy. Available December to February. |
| Thompson Seedless | Oval, green, medium-sized grape. Firm and juicy with a sweet flavour. Available from January to May |
Grapes
Store
Store grapes in an airtight container or plastic bag in the fridge. Wash just before using. Grapes are best eaten within 2-3 days of purchase.
Select
Select bunches of grapes that are plump and firm with even colour. The stems should be fresh looking and pliable, rather than brittle, and the grapes should be firmly attached.
Good for you grapes
A good source of vitamin C. This vitamin helps reduce our chances of picking up infections and also keeps teeth and gums healthy. Grapes provide dietary fibre which is important for making sure food residues move through the intestine.
In-Season
Varieties are available at different times throughout the year. Generally they're available from November to May.