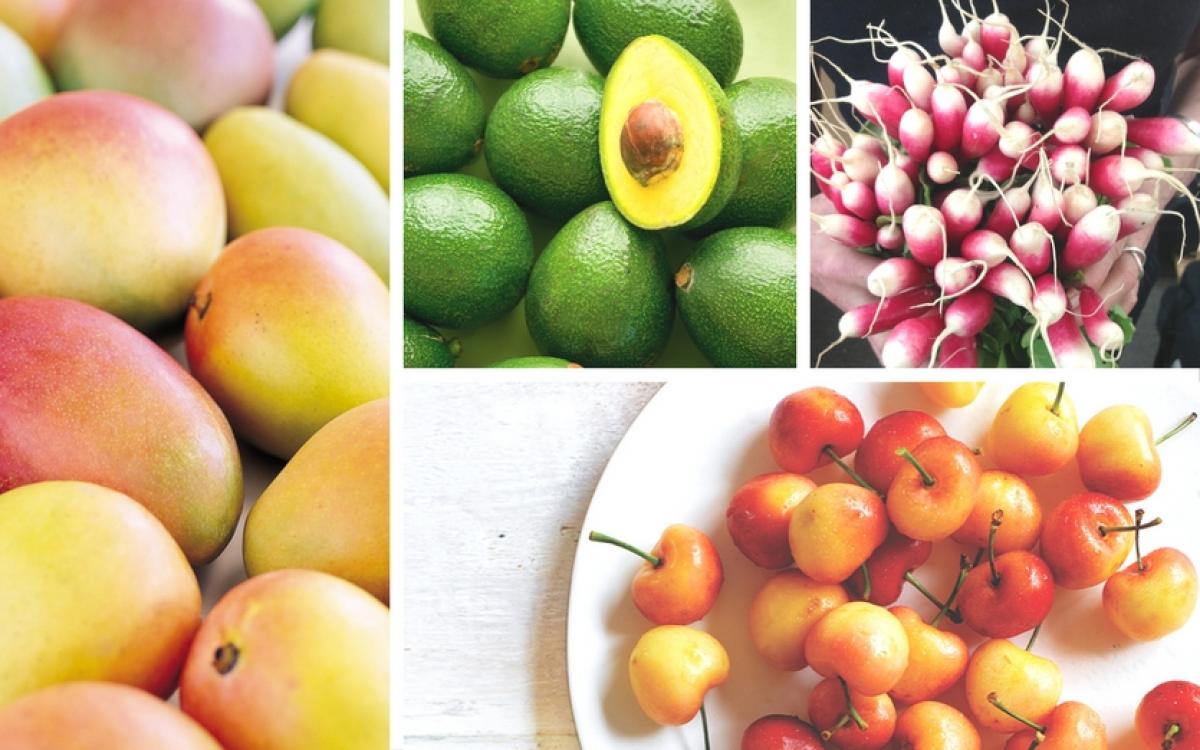 What's in season in December. Your premium fruit and vegetable guide.
Posted on Dec 11, 2019 | Tags: fruit and vegetables, December in season, Fruit and veg in season
It's time to celebrate with family and friends and make the most of early summer's fresh bounty. Here is our guide to help and inspire you to eat well and buy wisely in December.
Cherries are ripe for the picking with numerous varieties to choose from. Buy cherries in a 2-kilo box for gift giving or for enjoying at home. Be sure to enjoy the white cherries that are only available for a short time.
Golden velvety skinned apricots are plentiful. Choose firm, evenly coloured apricots with a sweet fragrance; this indicates optimum flavour. Colour varies from pale to deep apricot, the deeper the colour, the higher the content of beta-carotene. Refrigerate ripe fruit and use within 2 days.
Spice up your salads with radishes. The ever-expanding range of radish ensures a range of colours, shapes and heat. The tradition or common red radish is now joined by two-toned French radishes, multi-coloured bunches and watermelon radish. Each variety adds delicate pepperiness to salads, sandwiches or use as an accompaniment to a festive crudité.
Some of the best eating Reed avocados are available from December to January. Large, smooth and creamy, this variety is super fleshy and bursting with a nutty flavour.
Summer is the time to enjoy eggplants. There are so many ways to enjoy eggplant, roasted, grilled, barbecued or baked. Adding barbecued eggplant to home-made burgers imparts and pleasant texture and extra smoky flavour. Eggplant & mushroom lamb burgers.
Refreshing and extra juicy, tropical tasting lychees are superb eating. Serve grilled deseeded lychees wrapped in prosciutto as appetisers.
Zucchinis take on a new life when barbecued. Slice lengthwise into 2 or 3 slices, spray with olive oil and barbecue on the grill for 2-4 minutes.
Summer is prime time for crispy, crunchy beans. Toss steamed baby green beans in a salad with shaved baby fennel, parmesan cheese and halved cherry tomatoes. Drizzle with extra virgin olive oil and lemon juice. Season to taste and serve with fish. Select from machine harvested or premium hand-picked green beans.
Delectable berries are a seasonal treat. Raspberries, blackberries, blueberries, strawberries and red currant are available in good supplies throughout December and January. Whip up a classic summer berry pudding it's packed with flavour and goodness and is perfect for serving during the festive season.
Tomatoes are plentiful. Cherry, Roma, Truss, Oxheart and heirloom tomatoes are fleshy and extra flavoursome, however, their softer texture means you need to handle them with care. Try our slow roasted balsamic cherry tomatoes.
Passionfruit teams deliciously with summer stone fruits and berries. Choose passionfruit that feels heavy for its size. Slightly wrinkled skin indicates the passionfruit is ripe.
Start cool with crispy salads made with versatile Cos and Iceberg.  See our tips for removing the lettuce cups without tearing the leaves.
One of our most-loved summer fruits, plump juicy mangoes are at their best in early summer. Their natural sweetness and succulent orange flesh taste delicious. Team mangoes with minted with chilli, coriander and finely diced red onion to make a spicy salsa to serve with seafood this festive season.
Seasonal fruit and vegetable recipes to try this December 
Chocolate dipped cherries 
Apricots with brown sugar yoghurt & panettone
Bean, asparagus and ham salad with basil dressing
Mango and white chocolate cheesecake
Caesar salad with lemon chicken