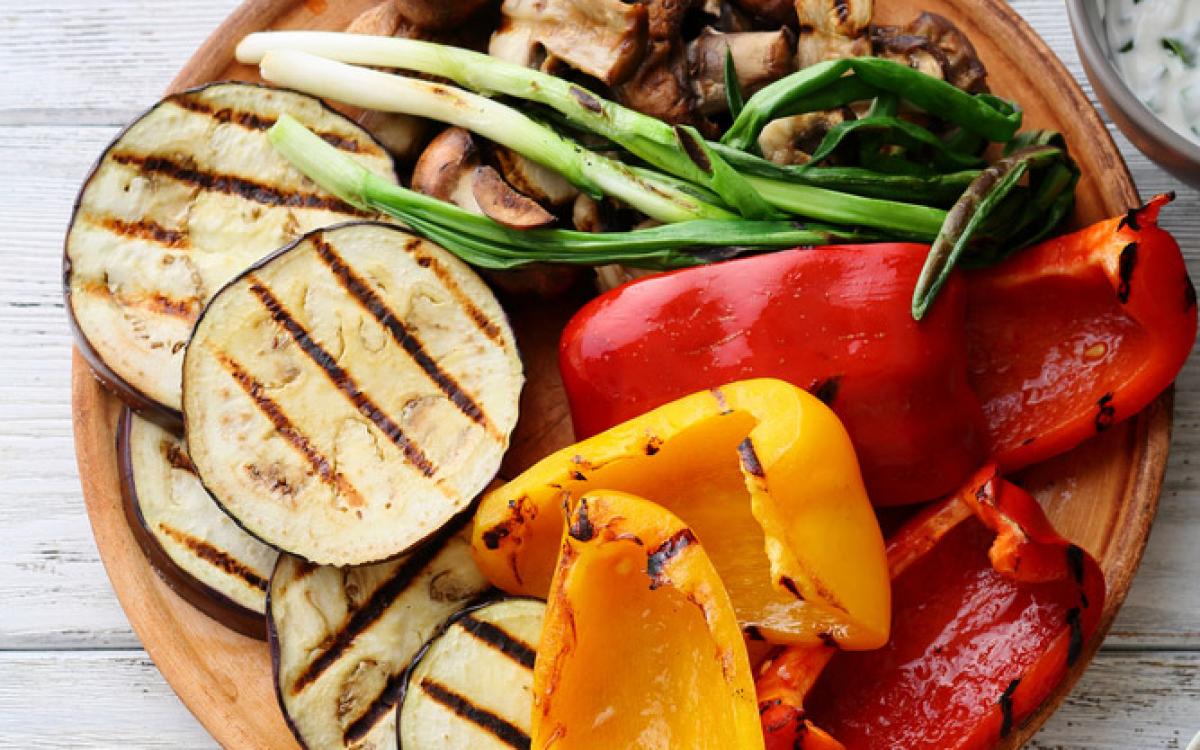 How to make your BBQ's healthier
Posted on Dec 11, 2019 | Tags: bbq vegetables, corn, sweet potato, eggplant, barbecue, barbecue vegetables, tomatoes, mushrooms, capsicum, fruit and vegetables, potato
Barbecued vegetables are; dare we say it, so often the 'hero' on the plate; adding rich colours, interesting textures and a load of vitamins, minerals and delicious smoky flavour.
Throw some fresh vegetables on your BBQ and enjoy the best of what the summer season has to offer, cooked to perfection. Serve barbecued veggies as a side dish, as part of an antipasto plate or make them the feature of your BBQ served on a platter topped with grilled haloumi or scatter over feta cheese and serve hot or cold.
Here are our tips for barbecuing eggplant, capsicum, zucchini, sweetcorn, sweet potato, pumpkin, mushrooms and tomatoes.
Tips to master BBQ vegetables
For super quick veggies, cut them to size so you only need to cook them for a few minutes and there ready to serve.
BBQ capsicum, zucchini and eggplant
To prepare:
Capsicums - cut into quarters, trim the stems and remove seeds.
Zucchini - slice lengthwise into 3-4 slices, depending on thickness.
Eggplant - trim and cut into 1-2 cm thick slices. Cut baby eggplant in half lengthwise
Lightly brush or spray your cut capsicum, eggplant or zucchinis with oil, season to your liking and then grill for 2-4 minutes on each side over medium-high heat until just tender.
Remember to brush with oil occasionally so they don't burn or dry out on the grill. BBQ on the grill to get masterful grill lines happening.
BBQ potatoes, sweet potato and pumpkin
For best results peel, thickly slice and par-boil vegetables or cook in the microwave until they just start to soften. Lightly brush or spray with oil.
Cook over medium heat for 3 minutes. Do not overcook.
BBQ mushrooms
Rich in umami flavour, mushrooms are a great alternative to meat. Large, flat mushrooms, gourmet Swiss browns and Portobello are full flavoured and fleshy. To add extra flavour, season the underside of the mushroom with balsamic, salt, pepper and garlic.
Cook top side down first, the underside will gather moisture while cooking. When you flip it over it will effectively steam itself with the moisture.
Lightly brush or spray with olive oil during cooking on medium heat. Serve with a sprinkle of parsley to garnish.
BBQ tomatoes
If you've enjoyed oven roasted tomatoes with a cooked breakfast, you'll know how deliciously juicy and flavourful cooked tomatoes are. So try barbecuing for added smoky taste.
Halve red, ripened Roma or Ox heart tomatoes and place on a hot grill for 1 minute on each side. You can make a BBQ bruschetta by serving on sliced crusty bread drizzled with olive oil with chopped or torn fresh basil.
BBQ Sweetcorn
Last but not least, a real barbecue favourite is sweetcorn.
Peel back the husk then remove the silk. Wrap the corn in its husks, secure with strong cotton string or grasp husks in place at the top with a toothpick. Soak in cold water for 1 minute. Place corn onto a medium-heat barbecue grill. Cook for 6-10 minutes, turning occasionally, until the kernels are tender. Serve tossed in herb or garlic butter.