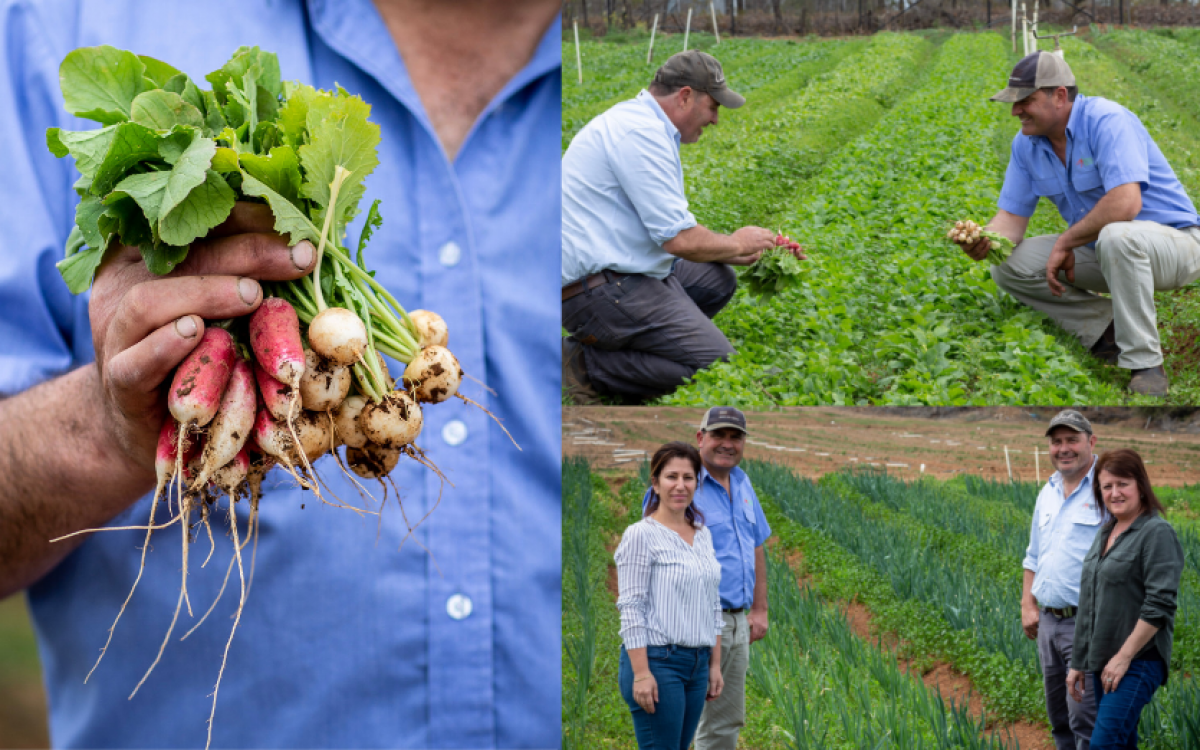 Grima Farm Fresh Produce - Unearthed
Posted on Oct 11, 2018 | Tags: Fruit and Veg, market life, growers, Sydney Food Sisters
These Passionate Horsley Park veggie growers reveal their heart and soil
While most of us are still sleeping, brothers Sam and Stephen Grima are well into the bustle of their day. A midnight start, every Monday, Wednesday and Friday, is the norm for this hard-working duo, whose working day starts on their Horsley Park farm loading their truck full of farm grown vegetables, before heading 28km east to the Sydney Growers Markets, for a busy morning's trade. The Grima brothers, co-owners of Grima Farm Fresh Produce, have been selling their local farm grown vegetables to chefs, providores and independent greengrocers at the markets for the last 30 years.
While they grow a large array of vegetables on their farm, their main speciality is their highly sought-after baby vegetables. With constantly changing food trends, and chefs always on the lookout for something new and inspiring to feature on their restaurant menus, Sam and Stephen have remained ace at their farming game by growing innovative varieties of baby vegetables in close collaboration with chefs who are equally as innovative with their kitchen creations. They have become renowned at the markets for their thin baby leeks, baby turnips, and stunning array of colourful baby white, red and watermelon radishes.
Sam and Stephen Grima with their fields of red, white and watermelon radish.
Freshly harvested baby radishes for Sydney's finest restaurants.
"We have to be picked at just the right time when they are exactly the right size," explained Sam and Stephen about harvesting the baby radishes, one of their best-selling vegetables. The brothers work very closely with chefs to grow the produce specific to their customer's needs. Their continued commitment to innovation has inspired them to grow many extraordinary vegetable varieties such as yellow zucchini, purple, orange and green cauliflower, rainbow chard, kohlrabi, yellow and purple beetroot, and colourful carrots.
Their attention to immaculate harvest detail and their exceptional level of customer service has earned them their outstanding reputation in the industry and amongst their peers, this year being honoured with the accolade of 'Produce Grower of the Year' at the 2018 Sydney Markets Fresh Awards.
The Grima family with their Sydney Markets Fresh Award for 'Produce Grower of the Year'
When asked about their individual roles in operating the business, Sam and Stephen agree that while each of them gravitates to certain aspects of the farming, they generally "do it all together". The brothers take a very communal approach to running their business and their roles largely overlap, each of them exceptionally experienced and skilled in all facets of the business, from the farming, growing and innovation side of the operation, through to the market and trading end of the business.
There is an admirable camaraderie between these brothers, and the dynamic between them is a splendid scene to watch as they go about their business at the bustling Sydney Markets. With overflowing bundles of vibrantly coloured vegetables around them in their abundant market stand, the brothers shine as brightly as their produce does, and their personalities seep into the market scene with energy, passion, enthusiasm, and humour. The brother's market hours end at 9 AM, before heading back to the farm to continue their working day, which will progress until midday before going home to catch some shut-eye. While their farming and market life involves hard work and long hours, Sam and Stephen wouldn't have it any other way, "Farming runs through our blood, we love it."
The brothers share a common fondness for their family farm, and it is evident that their strong work ethic and brotherly bond stems from the family roots that are firmly laid in the soil where their vegetables grow. Steeped in family history, the Grima Farm was originally established in the 1960s, when Sam and Stephen's parents, Joe and Lily, immigrated from Malta and settled on the 10-acre property. Sam and Stephen speak with sensitivity and emotion when they talk about the influential role their parents have played in their lives, their late father Joe serving as their greatest mentor.
Brothers Stephen and Sam at their family farm
The original family home still stands proudly on the farm, now converted into the business office, where the brother's wives, Theresa and Sharon, run their own busy show. Theresa and Sharon are responsible for running the administrative side of the business and assisting in the vegetable packing sheds during seasons of peak harvest and in preparation for the local grower's markets on Saturdays. "Our wives are the backbone of our business, we couldn't do it without them", Sam and Stephen proudly acknowledge when they speak about the pivotal role their wives play in operating their family business.
The business has expanded significantly over the years, now growing produce across 40 acres on the neighbouring farms that they have extended their operations to. On the days that the brothers are not at the markets, they are busy picking the vegetables and tending to their varied farming responsibilities, which change seasonally. Their nimble working hands, stained with soil, are a reminder that even in an age of highly mechanised farming, there are some things that machines will never be able to do, making the work highly labour intensive.
The Grima family, Sam, Stephen, Theresa and Sharon. While much of the farming is mechanised, the picking and packing needs to be done by hand.
While the Grima family have worked together to build a fertile business, running a farm comes with its own set of stresses and challenges. Their greatest constant challenge, according to the Grimas, is securing a fair price for their produce. "It's all about supply and demand, that's our biggest stress and challenge," says Sam. "You could have the best quality produce, but if there is not enough demand, or there is an oversupply, often our vegetables are sold for much less than what it costs to produce them. To see all your hard work sell for next to nothing, that's heartbreaking".
The most rewarding aspect of the business for the Grima family is seeing the paddock to plate experience come full circle, whether it be on their own family dining tables, or on dining tables in restaurants across Sydney. Their enthusiasm for their produce supersedes any business challenges they might face, and they speak about their vegetables with excitement. "There are always plenty of vegetables on our table, it's not a meal without vegetables," says, Theresa and Sharon, who do most of the family cooking, preferring to cook the vegetables using simple roasting or steaming methods to celebrate the freshness of the produce. "Broccoli is my favourite!" proclaims Sam, "everyone loves broccoli!".
When given the opportunity to escape the demands of the farm and business, Sam and Stephen enjoy dining with Theresa and Sharon at restaurants they supply to, sampling the delicacies that chefs have created using their seasonal produce. Among their favourites are Oscillate Wildly in Newtown headed by chef Karl Firla, and Tonic in Milthorpe headed by chef Tony Warland. The Grima family play an important part in feeding the community, and Sam speaks for the whole family when he summarises the rewarding aspects of their hard work, "Seeing the vegetables we have grown, on a plate in some of the best restaurants, being enjoyed by so many people… well, it doesn't get any better than that".
From left to right, Sharon, Stephen, Theresa and Sam Grima on their Horsley Park family farm.
Article by Sydney Food Sisters.