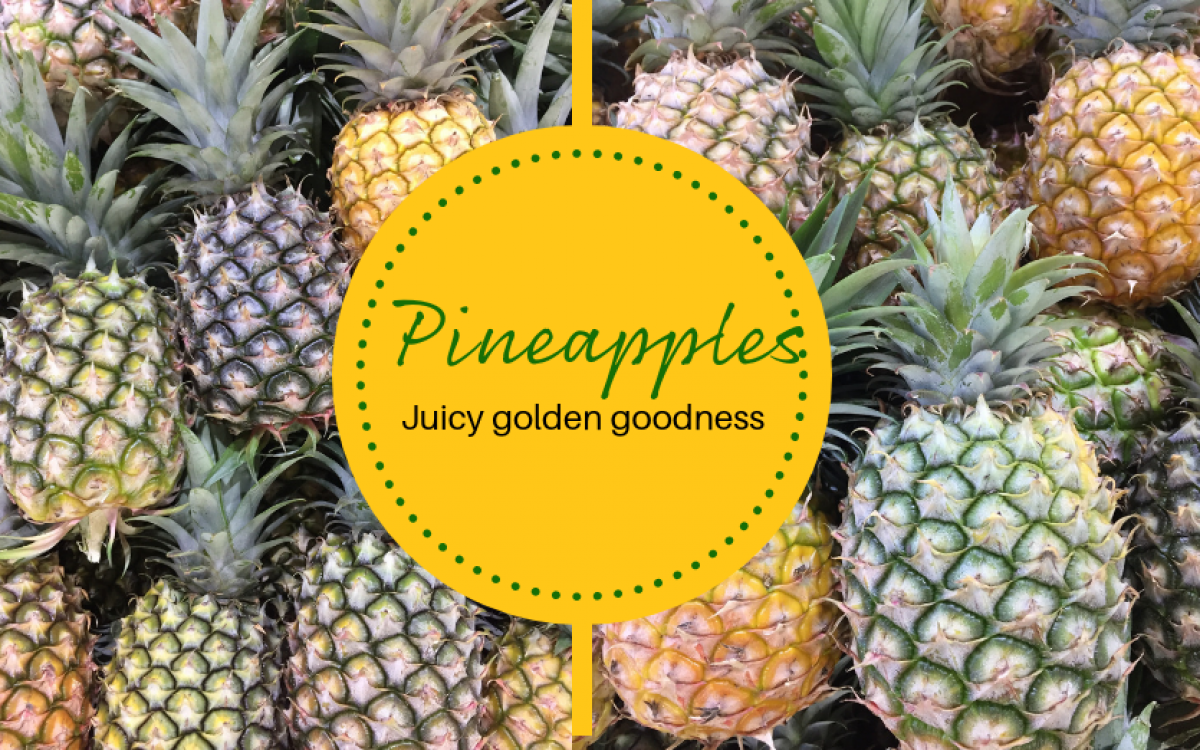 Bring in the fresh taste of spring with pineapple.
Posted on Sep 06, 2018 | Tags: fruit and vegetables, pineapples
Picked ripe and ready to eat, naturally, sweet pineapple takes centre stage in spring. Whether you eat fresh pineapple first thing in the morning or for a pick-me-up snack, it's deliciously thirst quenching. The canned version simply can't compete for sweet tropical freshness, juiciness and flavour.
Why is pineapple good for you?
Pineapple is rich in vitamin C and dietary fibre, which is important for intestinal health. It's also a good source of manganese, which is vital for bone, joint cartilage and brain function.
Selecting pineapple
Pineapple skin colour can vary from green to golden yellow depending on the pineapple variety. The skin colour does not indicate flavour or sweetness. The sweetest pineapple has a sweet tropical aroma and feels heavy for its size. Keep the whole pineapple at room temperature, out of direct sunlight, and use within 2-3 days. Refrigerate cut pineapple in an airtight container and use within 1-2 days. Cut pineapple can be wrapped in plastic wrap and frozen.
To prepare the whole pineapple
Trim off the top and base. Place pineapple onto a board and slice downwards with a sharp knife to remove the thick skin and brown 'eyes'. Quarter pineapple lengthways and if preferred trim off the fibrous but edible central core. Slice or chop the flesh as required.
Great ways to serve pineapple to kids
Toss pineapple with strawberries, chopped oranges and blueberries in a super C spring fruit salad.
Freeze pineapple wedges for an after-sport snack.
Mix chopped pineapple with freshly-squeezed orange juice and freeze in ice-cube trays. Blitz the cubes for a cool slushie.
Pineapple & chicken satay kebabs
Preparation 25 mins Cooking 12 mins Serves 4
1 large red capsicum, halved and deseeded
½ medium pineapple, peeled, quartered and cored
400g chicken thigh fillets, trimmed
270ml jar satay sauce
Olive oil cooking spray
Coriander leaves, sliced red chilli and steamed jasmine rice, to serve
STEP 1 Cut capsicum, pineapple and chicken into 4-5 cm pieces. Place into a large ceramic dish. Add ¾ cup satay sauce and stir to coat. Cover and refrigerate for 30 minutes. Meanwhile, soak 12 x 18 cm bamboo skewers in cold water. Drain.
STEP 2 Thread capsicum, pineapple and chicken onto skewers.
STEP 3 Preheat a greased barbecue plate over medium heat. Spray skewers with oil and barbecue, turning occasionally, for 10-12 minutes until just cooked through. Place remaining satay sauce into a small heatproof bowl and microwave on high for 15-20 seconds until warm. Serve kebabs with satay sauce, coriander leaves, chilli and jasmine rice.