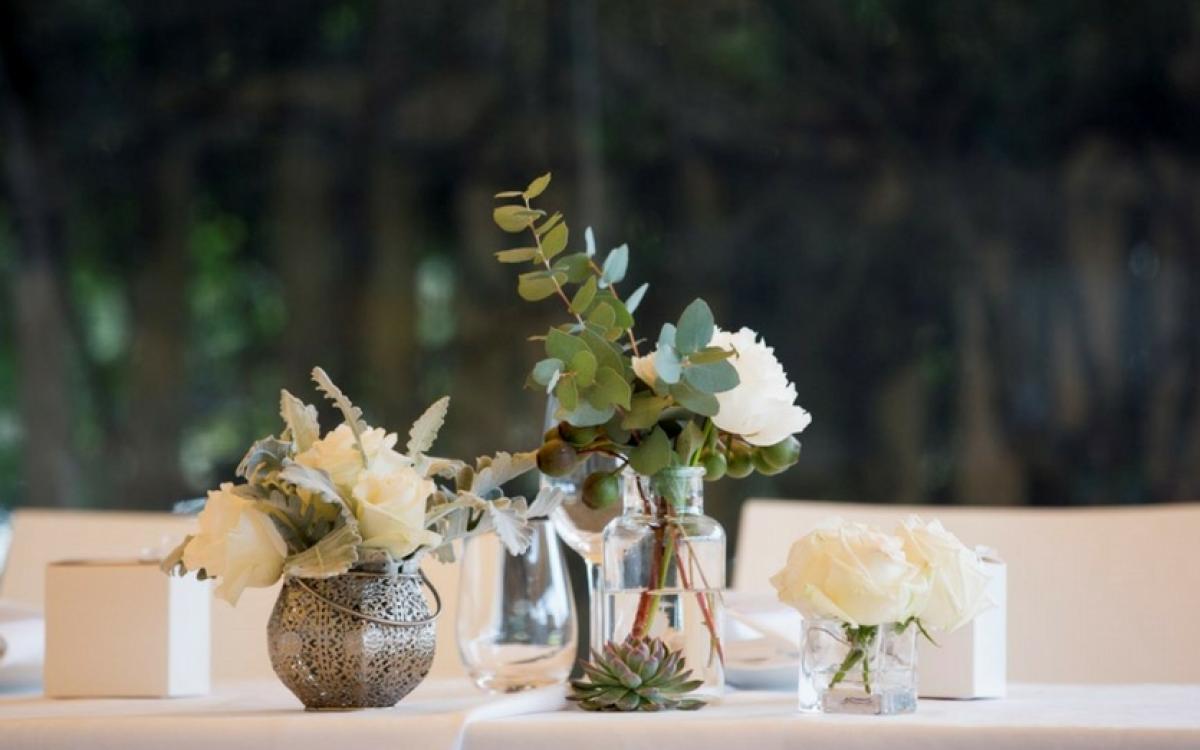 Classic to modern: 3 trending ideas for a sensational floral table settings
Posted on Jan 08, 2018 | Tags: Flowers, table setting, flora trends, "
Whether you're hosting an intimate dinner for your in-laws or throwing a big party to celebrate your 40th birthday, these table setting ideas will up the ante at your next event.
Mixed greenery garlands
 Mixed greenery table garlands are one of the surest ways to give an event a classic feel.
 The stunning garland pictured here was created by George and Smee, based at Bondi Beach. It's a mix of Australian natives such as eucalyptus and Mallee gum with olive and magnolia.
"With such an impactful feature in the centre of the tables, it's a good idea to keep the rest of the table styling very simple," says Katie Smee, George and Smee director. "Native greenery is a great option as it is hardy and can remain out of water for a while. 
 "Be careful when using more delicate fresh greenery. You can definitely add flowers in too but it's a good idea to do this with the use of small oasis trays so you can keep them fresh."
Make the garland by gathering small bunches of each the foliage together and wiring onto a piece of rope the length of the table. Overlap each bunch slightly to create a full and luscious runner. 
Complete the look by using white table-clothes or beautiful natural timber tables, and entwine the runner with tea lights for a magical ambience.
Grouped flowers with native and tropical leaves
Oasis bowls are key to making these classic and stylish arrangements work.
The elegant arrangement shown here is by Jodi McGregor of Jodie McGregor Flowers at Annandale.
To recreate the look, fill an oasis bowl (available from florists) with water and add your foliage (Jodi has used magnolia and bullet eucalyptus here) to create the shape, texture and structure. Then add the floral elements in groups to create impact. Finally, fill any gaps with more foliage.
"A common mistake is to use too many different varieties of flowers, and mixing all the flowers together rather than grouping them," says Jodi. "Also, the arrangement will be out of proportion if the stems are left too long."
Modern-day romance with succulents
Succulents are a great addition to table settings if you're looking to create something modern.
The look is made all the more interesting by teaming the hardy green of the succulent with mixing metal and glass vessels in different shapes and sizes, like that pictured by event stylist Amelia Johnson, owner of Bespoke Social. Amelia has strategically placed succulents among vases of large open peonies with native gum, white roses and dusty miller to give this romantic setting a modern edge.
"The best thing about this style is that it is hard to make a mistake," Amelia says. "Just be careful to keep heights varied with table placement to create a visual hierarchy,"