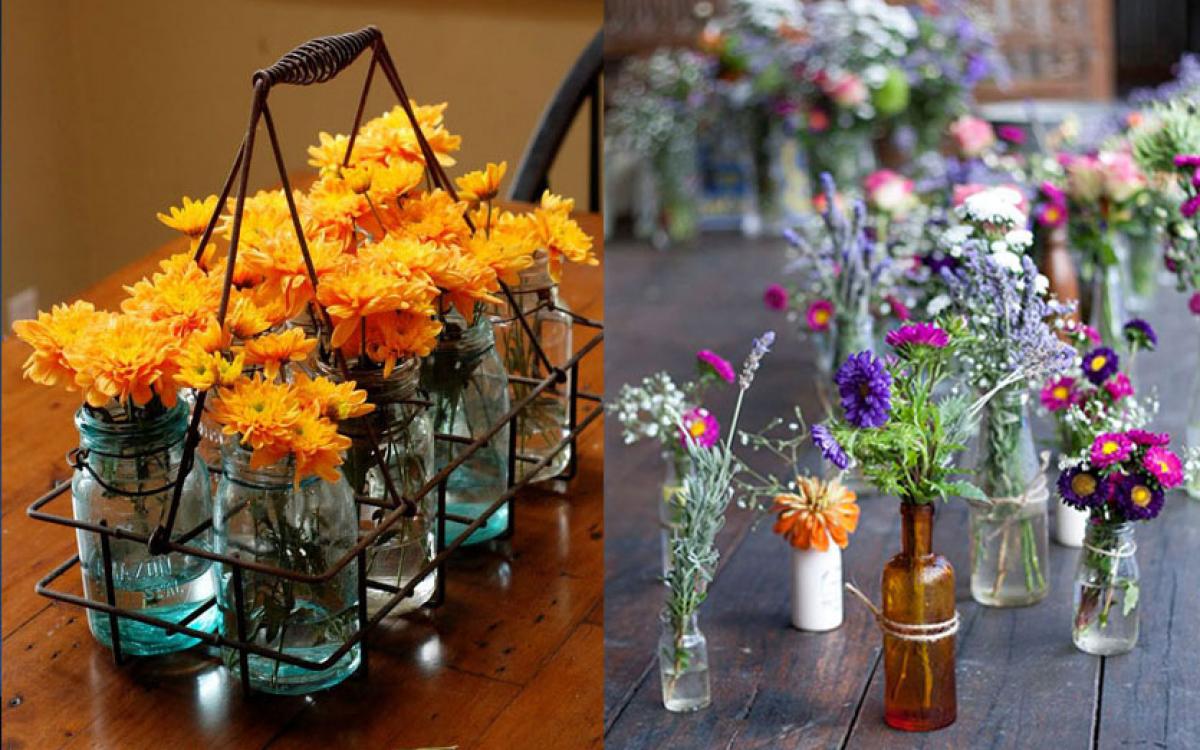 11 creative ways to display fresh flowers around your home
Posted on Nov 27, 2017 | Tags: fresh flowers, Flowers, home decor
There is a kind of magic generated when you have fresh flowers around your home. It's a simple but powerful thing. It comes through the way the perfume of flowers on your bedside table meets your nose before your eyes have opened in the morning. Or the way a well-placed vase gives you that jolt of pleasure when you see it unexpectedly. Or how a beautiful arrangement brings life to your kitchen and feeds your soul.
Bring some of this magic into these spaces around your home by making the most of the seasonal blooms available from your local florist or greengrocer.
Welcome guests with fresh flowers
1.   Whether your style is fun and quirky or elegant and understated, let people see it as soon as they walk through the door with a floral arrangement that catches the eye. Multiple vases of the same style on an entry console or credenza provide a striking repeat effect the makes an immediate impression. Fill all the vases with roses for an elegant look, kangaroo paw for a native display or multicoloured gerberas if you like something more fun.
2.   Welcome people to your home with an extra-large vase of flowers on the floor. This kind of arrangement works well with large blooms like sunflowers, ginger flowers, bird of paradise, Waratahs, banksias or plants with large sculptural leaves. You can weigh down the vase or steady it with ornamental stones.
Blooms in the bedroom
3.   A beautiful bunch of flowers on your bedside table feeds your soul morning and night. Make sure you use gently perfumed blooms that match your bedroom interior rather than overwhelm the space. Sweet peas, peonies and lily of the valley work well.
4.   Create a floral bedhead by constructing a wall of blooms hanging from a sculptural branch attached to the wall. This boho chic idea does take a little time to pull together but is worth the effort for a special occasion or just sheer wow factor! Use flowers or green foliage that will hold up to this kind of treatment.
Feed the soul with flowers in the kitchen
5.   Displaying flowers in the kitchen allows you to use plenty of quirky and interesting items to show off your blooms. Glasses, jars and tins can be recycled into vases. Place a single bloom in each vessel, but have many of them along the bench, table or windowsill. This works well with gerberas, roses and gardenias.
6.   Leave your more elegant vases for other areas of the house and use your serving jugs to display flowers on the bench top. This adds a casual element to your kitchen display.
7.   Don't be afraid to use flowers when you present food. Edible blooms like violets, geraniums, nasturtiums, rose petals and lavender will obviously work well, but even some display flowers can look great on a fruit platter or plate of brownies. To be on the safe side, make sure the flowers have been grown for consumption.
8.   As the days get longer capture seasonal flowers become more abundant, pull together a crazy vase! There are no rules, just choose the blooms you love! This looks works well with cottage style blooms or native wildflowers.
Bathroom plants
9.   In the bathroom, you can feel free to choose blooms with a strong scent. However, make sure they will stand up to the humidity of the room. Freesias, Phalaenopsis orchids and gardenias are good options.
10.  Indoor plants are also perfect in this space. They purify the air and provide a calming pop of green in the bathroom. Whether you choose to put a big pot on the floor, mount a stand in a corner or rest a decorative container on the vanity, there are many indoor plants that will suit your bathroom space.
Colour therapy for your home office
11.   Give yourself a productivity boost by incorporating flowers into your home office. Choose spring blooms in blue to encourage productivity or yellow to facilitate creativity.