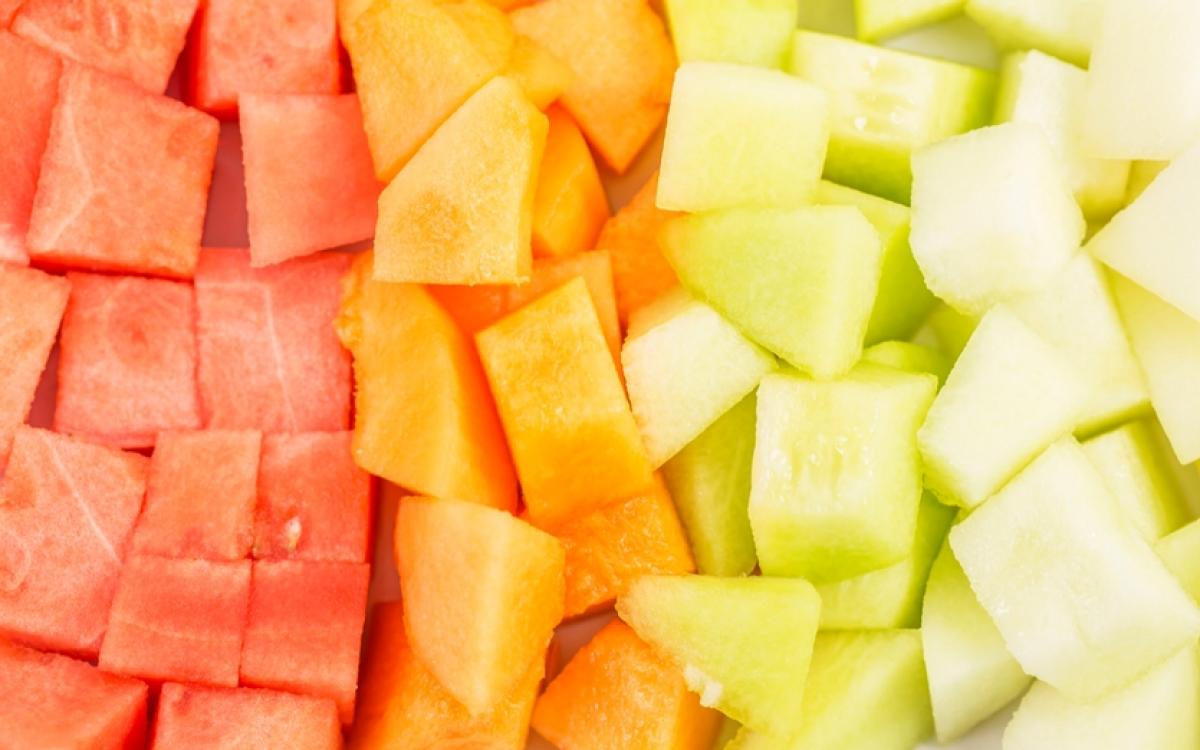 It's Melon Time
Posted on Nov 21, 2017 | Tags: melons, fruit and vegetables
Colourful juicy melons flourish in the warmer weather. Melons are available in a range of colours, with each differing in flavour and sweetness. Simply slice and serve for a refreshing snack, enjoy them juiced or added to a sweet or savoury salad.
All melons are picked ripe and ready to eat. All melons should be washed before slicing and serving because they grow on the ground. Choose a whole melon that feels heavy for its size. If cut, the flesh should look even-coloured and moist. Store cut melon covered with plastic wrap in the fridge. It's best eaten within a few days.
MELON VARIETIES
Watermelon
Vivid pink super cool watermelon is always a hit. Most watermelons are cylindrical to round in shape with a  mottled or stripy green rind and are available all year, peaking in spring and summer. 
Seedless varieties have become very popular and are ideal for serving to young children. Sweet watermelon has a high-water content making it hydrating and refreshing for busy kids on the run. Toss watermelon balls into a fruit salad. Watermelon is delicious served icy cold but we also recommend trying is warm. Place wedges on a chargrill or barbecue for a few minutes and serve with feta cheese, mint and olives.
Honeydew melon
Honeydews are usually round to slightly oval in shape with a smooth, white or gold rind. The flesh colour ranges from pale green to green and is succulent and juicy. White-skinned honeydew with a musky aroma is the sweetest and contains more naturally occurring sugars.
Available all year round honeydews melons are a popular choice in spring and summer with the season peaking January to February.
Rockmelon
Juicy orange-fleshed rockmelon has a distinctively sweet taste and netted firm rind. The sweetest rockmelons have a delicate musky aroma. Serve wedges of rockmelon in a tub of reduced fat tropical yoghurt for a sweet snack or serve on an antipasto with cold meats. 
Rockmelons (sometimes called cantaloupes) are available all year round. Peaking in November to March.
Piel de Sapo melon
New to the marketplace this melon originates from Spain, where its name translates to toad skin, an apt description for this melons extra thick and rough mottled rind. Known also as Santa Claus or Christmas melon, Piel de Sapo melons have juicy pale yellowish green dense flesh, that is super sweet eating.
Available all year round. Select melons that feel heavy for their size. Serve as a healthy snack, team with sweet or savoury flavours. For a delightful and refreshing change toss melon balls or chunks into a salad.
Watermelon and BBQ chicken salad
750g piece seedless watermelon
2 baby cos lettuce, leaves separated
½ barbecued chicken, shredded
50g feta cheese, crumbled
Reduced-fat mayonnaise, to serve
Step 1: Cut the watermelon into 1.5cm slices. Using a 3cm to 5cm cookie cutter, cut 12-16 rounds from the watermelon flesh.
Step 2: Arrange lettuce leaves on serving plates. Top each with watermelon and chicken. Sprinkle with feta, drizzle with mayonnaise and serve.
"When one has tasted watermelon he knows what the angels eat." Mark Twain