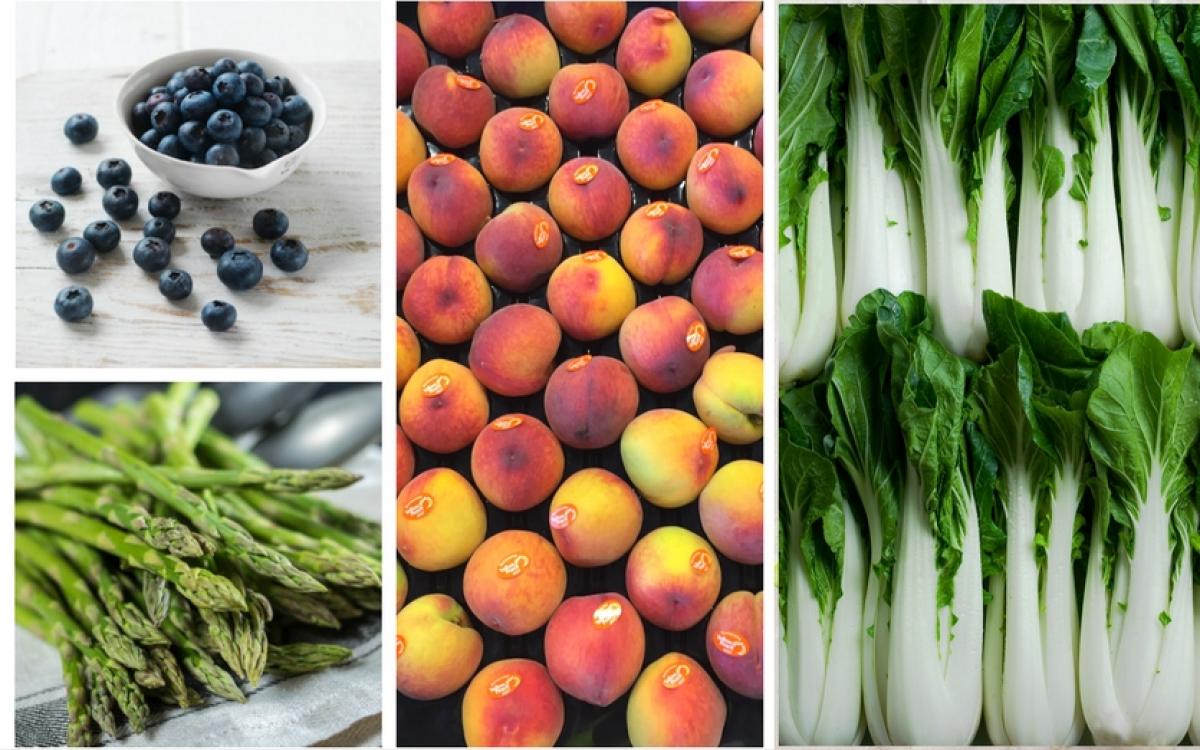 What's in season in November - Your premium fruit and vegetable guide.
Posted on Nov 13, 2017 | Tags: fruit, In Season, November, A guide to the best fruit and veggie buys

Fresh Tips For November
Cherries supplies are picking up and the prices will slowly ease. There are a few different varieties available this throughout the season, each with their unique combination of flavour, colour and flesh firmness. Invest in a cherry pitter so you can easily make cherry desserts and baked goods.
Tender, juicy and full of flavour Lebanese cucumbers offers good value. Combine diced cucumber with ripe ox heart or medley tomatoes, olives, thinly sliced onion and feta cheese to make a delicious salad.
Irresistible Kensington Pride and Calypso mangoes are a summer favourite, sweet and juicy. Add sliced mango to a salad,  perfect teamed with strawberries and passionfruit, bake a batch of mango and passionfruit muffins or a quick dessert like this Mango, passionfruit & ginger nut crumb with mascarpone.
For value, taste and versatility fresh asparagus is a winner, its delicate nutty flavour can be enjoyed raw or cooked, hot or cold and Aussie spears team deliciously with veal, pasta, seafood, prosciutto, chicken and steak.
Supplies of new season nectarines and peaches continue to improve as the weather warms up. Fruit is now arriving from for the North Coast, The Hawkesbury and Renmark. There are several varieties to select from each varying in colour, flavour and flesh texture. Both white and yellow-fleshed peaches and nectarines are now available.
Keep springtime dining light and easy with crisp sugar snap peas. Choose bright peas that are firm and plump, but not bulging. For an easy side dish, toss sugar snap peas in a well-oiled wok with chopped garlic and coriander with a drizzle of sweet chilli sauce. Alternatively, steam and toss sugar snap peas with chopped fresh mint, crumbled low-fat ricotta cheese and a drizzle of extra virgin olive oil.
From November until January Aussie grown apricots will be in season. Fresh, ripe apricots are juicy and taste both sweet and a bit tart. If unripe, place apricots in a paper bag at room temperature for one to two days. Fully ripe apricots should be used or eaten immediately. Try this Grilled apricots & raspberries recipe.
Ripened in the Queensland sunshine, golden fleshed rockmelons are super sweet and a thrifty buy. Serve with Rockmelons with feta cheese or halloumi in a salad is it's a tasty combination. Bursting with vitamin C, papaw is a delicious Australian-grown tropical fruit which is now in peak supply.
Papaw flesh continues to ripen once picked. Leave for a few days at room temperature to allow the skin to lose its greenish tinge. Ripe fruit has a golden yellow skin and will yield to gentle pressure around the stem. Once cut, cover with plastic wrap and refrigerate. It's best eaten within 2 days.
Naturally, sweet Western Australian, Victorian and Sydney basin strawberries and irresistible North Coast blueberries are superb quality.
A rich source of many nutrients, kale is packed with vitamins C, E and K, plus folate and beta-carotene. This crinkly-leafed green also provides iron and calcium. Strip leaves from the stems and chop, then toss in a hot pan with olive oil, crushed garlic, chopped red chilli and a scattering of currants. Heat until the kale wilts, then serve warm.
Try these Fresh Recipes This November.