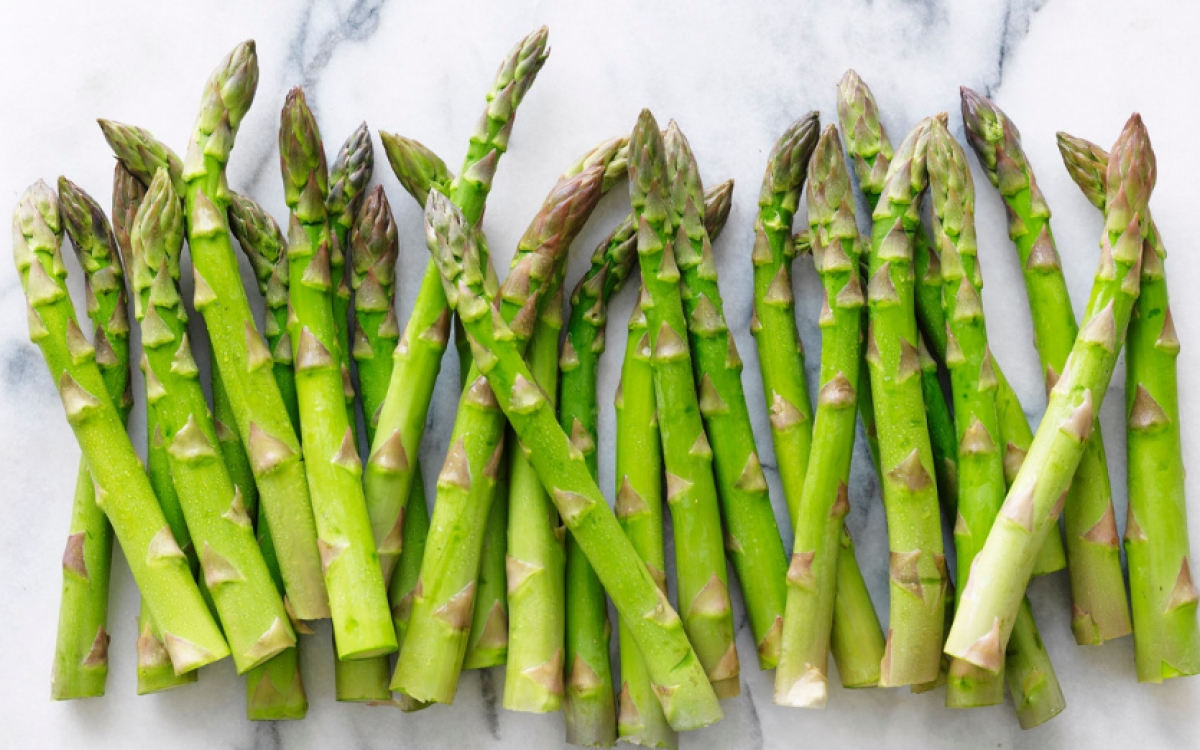 Asparagus - the king of the vegies
Posted on Oct 18, 2018 | Tags: asparagus, spring vegetables, Fruit and Veg, fruit
When it comes to spring eating, nothing looks and tastes more delicious than fresh, new season asparagus, its delicate nutty flavour and versatility make it an essential for any spring menu!
Preparing and cooking fresh asparagus is easy! Whether you are planning to steam it, stir-fry it, bake it, microwave it or toss it on the barbecue. Simply follow the basic steps and you will be enjoying asparagus in no time.
In Season
The peak Australian asparagus season runs from late August to December. Some growers, however, pick a limited late or secondary crop between January to March.
Green asparagus
Most green asparagus is ready-to-go. If the base of the stalk is tough, simply run a knife along the stalk until it meets less resistance, then cut the end off at this point. Or simply snap off the course ends with your forefinger and thumb.
Green asparagus derives its colour from the process of photosynthesis as the spear emerges from the soil into direct sunlight.
A common misconception is that thin spears are young shoots and therefore more tender. In fact, long, thick dark green glossy spears with tightly closed heads are the best quality. Quality/freshness, not thickness dictates the tenderness of asparagus
Correct storage and cooking results in vibrant green spears with a delightful tender crisp texture.
White asparagus

 White asparagus spears are usually thicker than green asparagus. White asparagus also has a thicker outer layer that can be easily removed.
Use a vegetable peeler to simply remove a thin outer layer of each spear two-thirds the length of the spear towards the tip, then snap off the woody end.
White asparagus has long been considered a delicacy. The main reason that white asparagus is more expensive is that there is a limited supply, and the production costs are higher.
To produce white asparagus spears, it has to be grown in the dark. When asparagus spears are exposed to sunlight, they first turn pink and later, the familiar green colour.
Traditionally white asparagus was produced in the field by piling extra soil above the crown so that the spear could develop to a harvestable length without being exposed to sunlight.
Some growers now use black "polyhouses" constructed over the crop between June and July. The black plastic ensures that the spears are not exposed to sunlight.
 Purple asparagus
Fresh purple asparagus is deeply fruity flavoured and tender crisp.
The purple colour is due to the anthocyanin pigment.
With a 20% higher sugar content than green asparagus, purple asparagus is distinguished by a mild sweet taste.
Purple asparagus spears are between 10% and 15% wider at the base than green asparagus spears.
Look for firm, crisp stalks and compact brightly coloured heads with no trace of softness.
When purple asparagus spears are sliced, the cream coloured flesh provides an especially effective presentation for salads and stir-fries.
Prolonged cooking causes purple asparagus to turn a deep green colour.
To retain the vibrant purple colour, it is best to cook purple asparagus just until tender crisp. Or serve it fresh in salads and salsas.
Adding 'acidic' dressings using lime or lemon juice, or white wine or apple cider vinegar helps intensify the beautiful crimson hue.
Select
Firm asparagus with even-sized spears and tightly closed tips.
Preparation
Prepare by simply snapping the tough base from the spear, or slice off before cooking.
Store
Stand asparagus spears upright, covered with plastic wrap, in a glass of water in the fridge for up to 3 days.
Cook
Blanch
Plunge trimmed asparagus into a frying pan of simmering water and cook for 2 to 3 minutes (depending on the thickness of the spears) until just tender. Drain and serve steamed hot, or refresh in cold water then pat dry with paper towel.
Microwave
Trim a bunch of asparagus and place in a microwave proof dish and cover. Microwave on high for 1 minute, and then allow to stand for 2 minutes, before serving.
Delicious ways to serve asparagus
Jazz up a stir-fry with colourful crunchy asparagus. It teams well with beef, chicken and pork as well as other veggies.
Brush asparagus spears with oil, then barbecue over medium-high heat, turning occasionally, for 3 minutes or until just tender.
Serve cooked asparagus spears for dippers with soft-boiled eggs for breakfast or a reduced fat dip for an after-school snack.
Finely shave asparagus with a vegetable peeler and toss through lunch box salads.
ASPARAGUS & HAM CHEESE MUNCHIES
Prep 20 mins | Cook 15 mins | Serves 4 as a snack
These tender asparagus munchies are ideal for an after-school snack or parties. 
 RECIPE
8 thick asparagus spears (about 2 bunches), trimmed
8 thin slices ham
1 cup reduced fat grated mozzarella cheese
STEP 1:  Preheat oven to 200°C fan-forced. Bring a frying pan of water to the boil over high heat. Plunge asparagus into pan and cook for 2 minutes until vibrant. Drain, refresh in cold water and set aside to drain. Pat dry with paper towel.
STEP 2:  Wrap a slice of ham around each asparagus spear. Place in a single layer on a baking tray lined with baking paper. Sprinkle each with cheese. Bake for 10-12 minutes or until cheese is golden and bubbling. Cool for 5 minutes and serve.
Good for you asparagus
One of the best sources of natural folate. This B complex vitamin is important throughout life for normal function of the immune system. A source of vitamin C which contributes to protecting body cells from damage from free radicals.