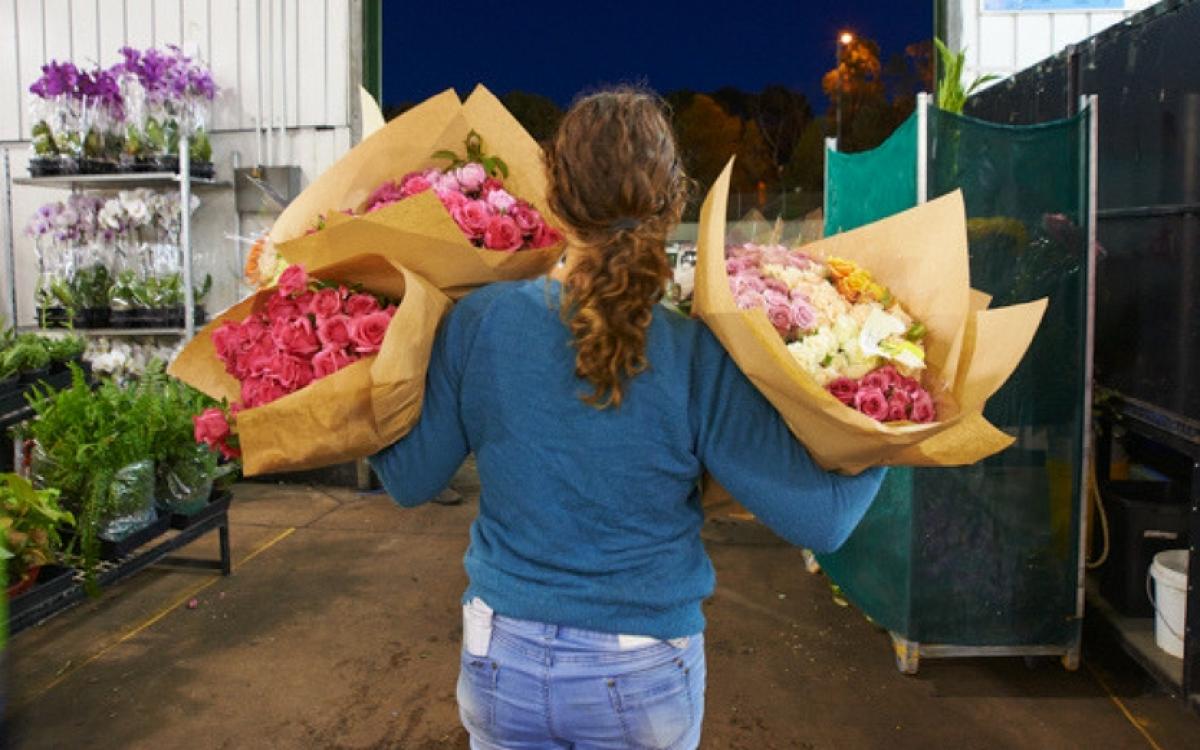 Insider's guide to visiting the Sydney Flower Market: What you really need to know
Posted on Aug 09, 2017 | Tags: Sydney Flower Market, Market Life, Flower Market, fresh flowers
Dawn hasn't begun to break yet, but the Sydney Flower Market has long been awake with the hustle and bustle of growers, wholesalers and flower enthusiasts preparing for an action-packed morning of roaring trade.
The vendors here are as colourful in character as their wares – and with a stunning array of flowers and foliage on offer, a visit to the Sydney Flower Markets are a fun and exciting as well as a visual feast for the eyes.
If you're a first time visitor, be prepared for an incredible experience – and one that may leave you a little overwhelmed especially given the floor space spans more than 5200 square metres, making the markets the biggest in Australia. On any one day, there could be more than 800 people arriving from 5 am to buy from more than 200 stalls. Most of the action happens in the first few hours, with Mondays, Wednesdays, Fridays and Saturdays being the busiest days.
Here, we've compiled this list of need-to-know tips to help you get the best from the markets every time you visit.
Get there early… the early bird always wins
The markets are open 5 am – 11 am on Monday through to Saturday, however, most trading takes place before 9 am. Florists and event stylists tend to get there right on 5 am, so if you arrive later in the morning, you may miss out altogether on your favourite flowers.
Psst… here's how to find the best parking spots
All the parking around the lower perimeter of the flower market is reserved parking, so scoot straight up to the third floor of the car park for the best casual parking. There is a lift for easy access to the flower market.
 Be aware that just about everyone who visits drives there. But there's plenty of space available particularly since the new car parking area was opened. Watch out for the hundreds of fork-lift operators buzzing around and pay attention to the speed limits to avoid accidents.
 A market entry fee of $10.00 is charged up until 9.00 am Monday to Thursday and 9.30 am Fridays for vehicles.
Saturday is the best day to go if you're not a retailer
Mondays, Wednesdays and Fridays are the most popular days for florists and wholesalers. Saturdays are much quieter and the best day to visit if you're just wanting to casually stroll the markets and take your time. Tuesdays and Thursdays are the quietest days and not all growers attend.
Bring a trolley or large shopping bags if you're planning to buy in bulk
Vendors don't provide carry bags so you need to bring a tote bag or trolley. Given there is so much on offer to buy it's good to come with a friend who can also provide an extra pair of hands. Bringing along a friend or family member makes it a fun outing as well as helping to lighten the load.
Wearing a high-visibility vest is mandatory
For safety reasons, it's important to wear a high visibility vest. If you don't have one of your own, you can purchase one at the markets from a vending machine for $10.
Bring cash
Like all markets, cash is king. Not all vendors have a card machine, and although there are ATMs on-site, it's advisable to bring cash with you. That way you won't lose valuable shopping time lining up to withdraw money.
Take a list and shop around
You'll get bargain prices whoever you buy from, but it does pay to do a quick lap to compare.
Get to know your favourite vendors
Not all vendors are here every week, and they're not always in the same place. If you find a vendor you like, find out what days they trade.  Don't' forget to ask them tips and tricks on caring for your flowers.
What are the other vendors on site aside from flower sellers?
There are plenty of places to grab a coffee or enjoy a hearty breakfast such as Champs Café on the outside of Building F, others are a short stroll away.
Apack Florist supplies colourful ribbons, wrapping paper, and an assortment of wires and vases.
Are flowers cheaper at the Flower Markets?
It's safe to say that this is often the case, after all, you are buying directly from the growers or wholesalers.
Whilst flowers and potted plants are sold about a third of the retail price, you need to consider that floral retailers and industries that buy fresh flowers need to cover their costs which include rising super early to drive to the markets and back to the business, transportation, staff, rent, electricity, water, materials costs, and of course the skill of arranging.
This is no different to buying any other goods through wholesale versus retail.
Visiting the Sydney Flower Market at least once is a bucket list trip that everyone should experience, but let's face it for most of us developing a relationship with our local florist is far more convenient especially when you can confidently place your trust in their floristry skills and creative execution.
Where is Sydney Flower Market
Sydney Flower Market is located in building F (F for flowers) within the Sydney Markets Australia's largest wholesale fruit, veg and flower precinct. This site is so large it has its own postcode.
250-318 Parramatta Rd
Sydney Markets NSW 2129
The best entrance to access the flower market is Austin Ave, Homebush 
If travelling by train, Flemington station is adjacent to the Sydney Markets and just a short walk to the flower market.
Follow the Sydney Flower Markets on Facebook