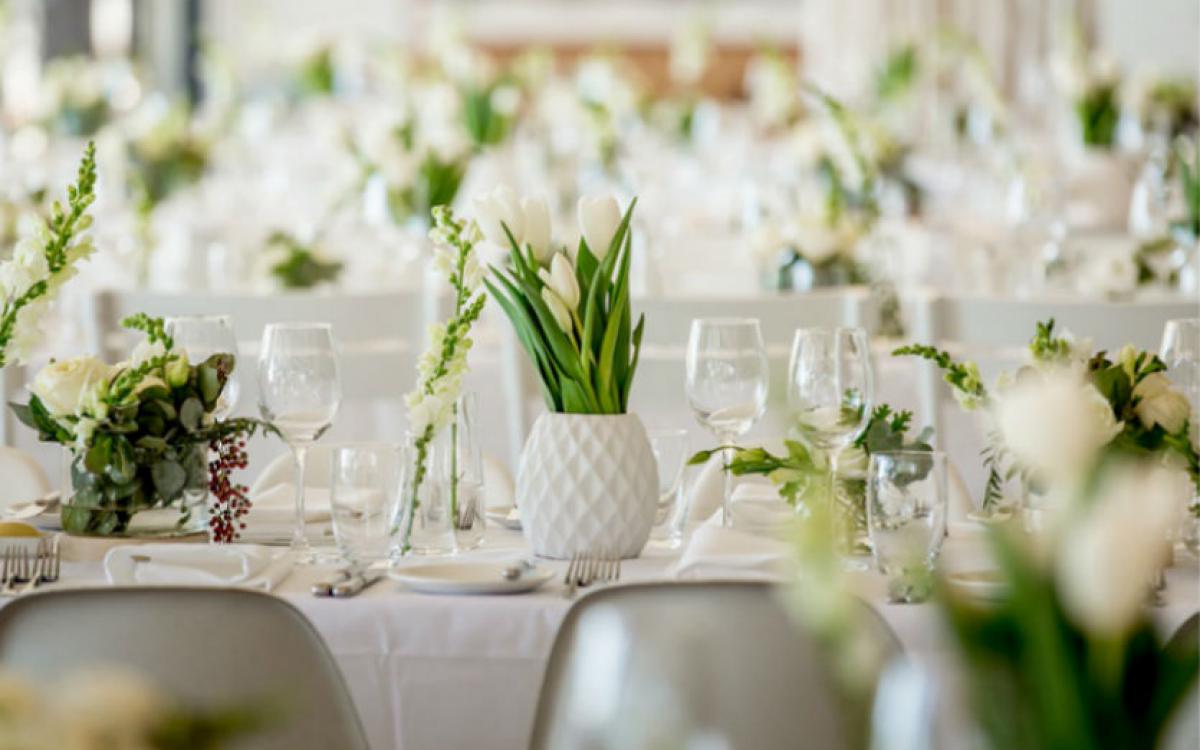 9 Top wedding flower trends for 2017
Posted on Jul 31, 2017 | Tags: flowers, wedding trends, fresh flowers
You can never go wrong with traditional white and soft pink florals when it comes to styling your wedding. However, more adventurous brides looking to give their wedding an edge should take note –experts in event styling say these are the top nine trends in wedding flowers this year. 
1. Hanging Installations
Credit: Photography, And A Day Photography. Stylist, Ashdown & Bee. Florist, Aleksandra.
From foliage wreaths to over-sized branches, hanging installations are big this year. Melissa Murray, owner and stylist of Ashdown & Bee in Summer Hill, said: "Hanging installations create a new dimension within a space and can also bring the ceiling down for a more intimate wedding venue. It transforms the area into a completely different space and adds a huge 'wow' factor to the guest's experience."
The hanging installation in this image was styled by Melissa. 
2. Branches
Typically a feature of corporate floral arrangements, branches have made their way into contemporary weddings. "The skeletal pattern of the magnolia branch, and delicate silhouette of the magnolia buds, brings an architectural aesthetic to a wedding arrangement," says event stylist Amelia Johnson, owner of Bespoke Social.
"Naked branches bring a structural element and asymmetrical balance to wedding styling, which is gaining popularity. Branches add texture and, when juxtaposed against delicate florals, they give a romantic and rich feel to a floral landscape."
Amelia's work is shown in this picture.
3. A White And Green Colour Palette
"Almost every wedding I am planning this year has a green and white colour palette and the absence of any other colour," says Amira Fleming, owner of wedding planning service For Thy Sweet Love."White flowers with beautiful greenery create an elegant and classic look and feel to a reception."
The beautiful blooms in this image are by NPM Events, for a wedding planned by Amira.
4. Flower Walls
 Another trend in weddings at the moment when it comes to floral decor is the flower wall. "They're popularly used as a photo backdrop or even a statement piece," says floral consultant Michelle Kazzi, who owns Desert Rose by Michelle. "Flower walls range from being completely filled with flowers to a simple green wall with some pops of colour." The flower wall in this image is by Desert Rose by Michelle
5. Foliage
A trend in florals right now in general, foliage is a key feature of more contemporary weddings. "Foliage is usually teamed with white florals, especially phalaenopsis orchids, and metallic accents," says wedding planner Frances Polistina, who works under the name frankii STYLES and planned the wedding featured in this picture. "It is common to see greenery outweigh the use of florals."
The florals in the image were from Flowers by Drosia
6. Nude  With Pops Of Burgundy
Silva Issa, of The Grounds Florals by Silva, says couples are requesting nude, nude and more nude as a colour palette this year, but the look is given a beautiful whimsical edge with unstructured styling and pops of burgundy. "The pop of burgundy is achieved best using a deep burgundy peonie, David Austin rose or a dark burgundy scabiosa," she says. "For a brighter burgundy, astilbe is beautiful." The bouquet in this picture was created by Silva.
7. Tropical With Pops Of Bright
The key to pulling off a tropical look is to keep arrangements simple, says stylist Lisa Kozlowski.
"To achieve this look, choose your favourite big leafy greenery. Some suggestions are monstera leaves, green dendrobium, homalomena, coleus, palms, peppercorn, kumquat and magnolia foliage," Lisa says. "Depending on what's in season, my favourites to add pops of colour are honey dijon roses, anemone, poppies, and dahlias."
 Lisa styled her own wedding with a gorgeous tropical style, pictured here. 
Credit: Photography Gui Jorge
8. Unstructured Bouquets
Creating an unstructured, wild bouquet might seem easy but there's actually quite an art to it. The look is typically achieved by using different textures and soft, trailing foliages such as jasmine and asparagus. This bouquet was created by Silva Issa, of The Grounds Florals by Silva. 
9. Pampas Grass
 "One of our favourite trends is pampas grass and all the movement that it provides while it frames the couple during the most important part of their wedding," says Decorations by Jelena florist Danijela FitzGibbon, who put the beautiful piece in this picture together.
Credit: Styling, Katarina Matekalo. Flowers, Danijela FitzGibbon.