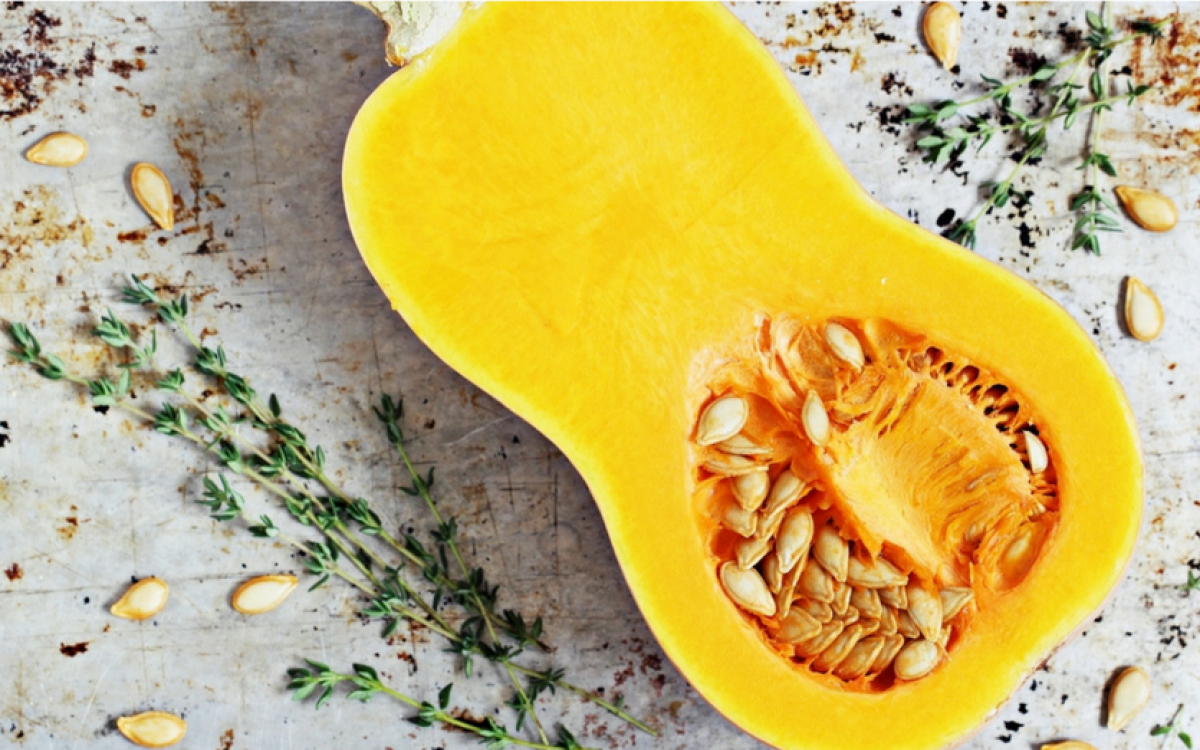 Warm up with radiant golden fleshed pumpkin
Posted on Jun 22, 2017 | Tags: fruit and vegetables, pumpkin varieties, pumpkin | Comments (0)
With its glowing colour and sweet flavour, pumpkin is the quintessential winter veggie. It's also super healthy with even more fibre than kale. 100g of pumpkin contains 246% of the daily recommended intake of vitamin A.
This versatile veggie features in many winter staples.
Whip up smooth pumpkin mash and add a handful of grated parmesan.
Team pumpkin with carrots in an antioxidant-rich soup.
Roast pumpkin wedges with savoury cheese and oat crumble topping or simply with a drizzle of olive oil.
Roast pumpkin
Roasting enhances the natural sweetness of pumpkin. The flesh becomes deliciously tender. Cook with the delicately nutty skin on to maintain shape. Leftover roasted pumpkin can be added to wraps and rolls, pasta, rice salads, frittatas as well as 'bubble 'n squeak'.

 

The pumpkin patch … guide to popular varieties
BUTTERNUT
This very popular variety has sweet, nutty bright-orange flesh and creamy firm skin. Experiment beyond soup. Add butternut pumpkin to spicy curries, pasta, Middle Eastern-inspired meat or rice dishes, and casseroles. If roasting, leave the skin on because it has a pleasant flavour. It's the best all-rounder pumpkin and excellent for soup, mashing and roasting.
 

JAP
Deliciously nutty-flavoured, this small pumpkin with mottled green and orange skin is easy to peel.Kids love the sweet flesh. The tender Jap pumpkin is delicious roasted. Leave the skin on when roasting because it helps the pumpkin retain shape. The relatively dry flesh is enhanced with a drizzle of sweet chilli or soy sauce. It's simply delicious roasted.
 

JARRAHDALE
The Jarrahdale is a large pumpkin with thick ribbed blue-greyish skin and deep golden-orange flesh. It is ideal for soups and roasting. Add a dash of nutmeg and parmesan to Jarrahdale pumpkin mash.
Fragrant Thai Style Pumpkin Soup
Prep 20 mins | Cook 35 mins | Serves 4
 The soup thickens on standing, add extra stock if necessary.
 2 tbs peanut oil
2 garlic cloves, finely chopped
3 cm piece ginger, finely grated
1 Bird's Eye red chilli, deseeded and chopped
1.3 kg butternut pumpkin, peeled, deseeded and diced
2 fresh kaffir lime leaves (optional)
4 cups chicken stock
1⁄2 cup reduced fat coconut milk
Coriander leaves, finely sliced red chilli and kaffir lime leaves, to serve
Step 1:   Heat oil in a large saucepan over medium heat. Add garlic, ginger and red chilli and cook for 1 minute. Add pumpkin and cook, stirring often, for 5 minutes. Add kaffir lime leaves (if using) and stock. Bring to the boil. Reduce heat to medium-low and cook, stirring occasionally, for 20–25 minutes until pumpkin is tender. Remove kaffir lime leaves.
Step 2:   Blend soup until smooth. Stir in coconut milk and season with salt and pepper to taste. Heat, stirring occasionally over low heat until hot. Ladle into serving bowls, top with coriander leaves, kaffir lime leaves and chilli and serve.
G

ood For You
Provides beta carotene, converted to vitamin A in the body and needed for normal vision. The  deeper the colour, the higher the content of beta carotene.
A source of vitamin C, which contributes to the normal functioning of the body's immune system.
Provides folate, a B vitamin that is necessary for formation of normal blood cells
Select

Choose firm, bright, well coloured pumpkins with no soft spots or cracks. Whole pumpkins should have 1 -3 cm of stem attached.

Store

Keep pumpkins in a cool, dry, well ventilated place. Remove the seeds from cut pumpkins and store wrapped in plastic in the crisper section of the refrigerator.

In season

Available all year round. Peak season Feburary to June.