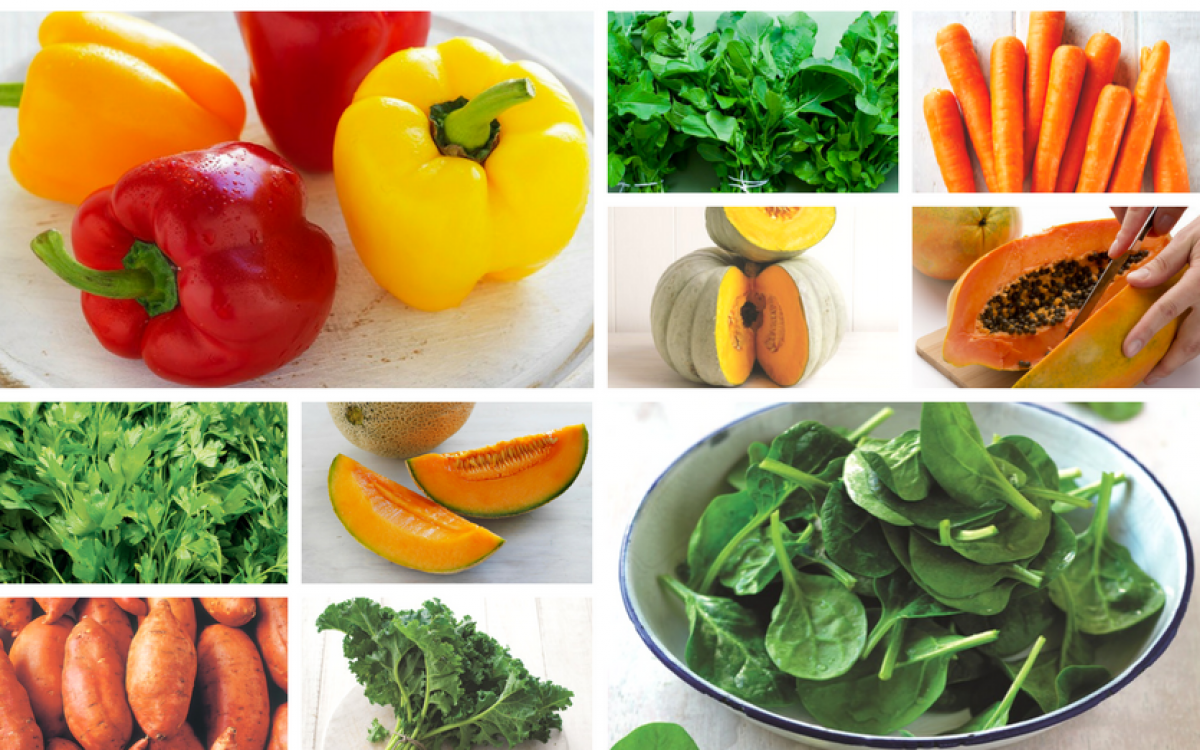 Vitamin A - Why its essential in our diet and 10 top fruits and vegetables sources.
Posted on Jun 13, 2017 | Tags: vitamin A, good for you
Vitamin A, also known as retinol is a fat soluble nutrient best known for protecting us from night blindness. But it doesn't stop there, Vitamin A helps to maintain a strong immune system, healthy skin and ensure normal growth and development in children. The antioxidant properties of Vitamin A also help to maintain the integrity of cells and offer some protection against cells becoming cancerous.
Liver is by far the best source of vitamin A, so much in fact that pregnant women during their first few months of pregnancy are advised to restrict their intake to no more than two serves of liver a month for fear the excess vitamin A may cause birth defects.
Restricting how much liver anyone eats is unlikely to be a hardship for the majority of people, pregnant or not and more palatable sources of dietary vitamin A exist in egg yolk and full fat dairy products such as milk, butter and cheese.
For those who dislike liver and prefer to avoid the saturated fat in full fat dairy not all is lost because vitamin A can easily, and very safely, be converted from carotenoids which are found in plant produce readily available from our local greengrocer. Another bonus to obtaining vitamin A from these very healthy and inexpensive foods is that you can't eat too much of them.
Because Vitamin A is fat soluble and is stored in the body, the body converts vitamin A from carotenoids only when supplies are low and it needs a fresh supply. When Vitamin A is not needed the carotenoids can perform their primary role of defence, as antioxidants protecting our body cells from free radical damage.
Top 10 carotenoid-rich foods used to make Vitamin A
Spinach
Rocket
Parsley
Kale
Pumpkin
Carrots
Sweet potato
Rockmelon
Capsicum
Red papaya
What about supplements?
With a healthy diet rich in carotenoid plant foods there's no need to supplement Vitamin A. Prolonged supplementation of vitamin A is known to be harmful and may cause toxicity in the body with symptoms which include headaches, itchy skin, bone and joint pain and hair loss.
The safest, healthiest and cheapest option is to visit your local greengrocer and supplement your body with fresh healthy plant food.
Print Recipe
Spinach, mushroom & cheese omelettes
Prep 10 mins | Cook 20 mins | Serves 2
1 tbs olive oil
2 tbs pine nuts
1 garlic clove, finely chopped
200g button mushrooms, thinly sliced
75g baby spinach leaves
6 free range eggs
2 tbs water
2 tsp butter
1⁄4 cup grated reduced fat tasty cheese
Step 1: Heat oil in a medium frying pan over medium heat. Add pine nuts and cook for 1–2 minutes until golden. Remove to a plate using a slotted spoon. Add garlic and mushrooms. Cook, stirring often, for 5 minutes. Add spinach, cover and cook until spinach wilts. Set aside.
Step 2: Crack eggs into a bowl, add pinch salt and water, and beat well with a fork. Heat a medium non-stick frying pan over medium heat until hot. Add butter, when bubbling, add half the eggs and tilt pan to spread egg evenly over base.
When omelette begins to firm, sprinkle over half the cheese. Top with half the mushroom and spinach mixture. Ease edges of omelette and fold over. When it starts to turn golden brown, slide omelette onto a serving plate. Repeat, and make another omelette, using the remaining ingredients