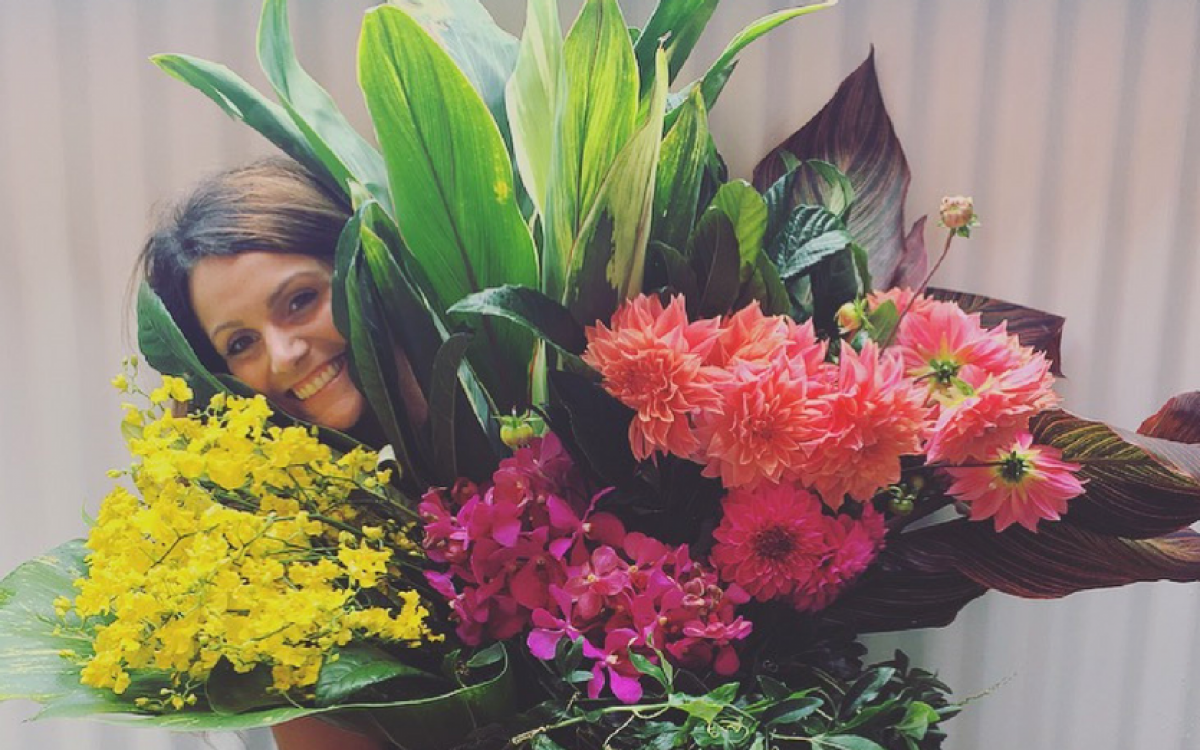 7 fabulous flower arranging hacks from an expert
Posted on Jun 02, 2017 | Tags: fresh flowers, florist, flowers, flower arranging
If you're a regular at the trendy food spots The Butler, SoCal, and Bondi Hardware, you've likely seen the handy work of freelance florist Carla Pavincich.
Carla counts the Applejack Hospitality and Consultancy group (who owns those venues) among her clients, along with event stylists The Sisters, Mr Cook, SHE Designs and others.
She's also just started a company called The Ivy League with a fellow friend in floristry, so you're about to see more of her work across events and weddings.
 A natural when it comes to styling flowers, you might never know that Carla worked full time in public relations until four years ago.
 "I realised a desk job wasn't for me, and I wanted to do something flexible and creative," said Carla, who is a regular face at the Sydney Flower Markets. "I love floristry for the way it impacts people positively. I love the buzz and energy of the industry, and I'm constantly inspired by the talented people I work with."
 Speaking of talent, we heard that Carla had some excellent flower arranging hacks up her sleeve. Here she generously shares seven of them with us, in her own words:
 1. Size matters
First things first, you need to suss out the perfect vase for your arrangement.
As a guide, the bigger the opening at the top, the more flowers or foliage you're going to need to fill it. Decide what look you're going for - really full or sparse? Some delicate flowers like tulips or long-stemmed roses look great sparsely placed in an open-mouthed vase. However, as a general rule, a nice full vase is a safer way to go.
 2. Work from the base up
"Basing" your vase up (an industry term) with greenery is great way to fill and create shape and texture. Traditional hardy foliages, textural natives or bold tropical leaves all make great bases when putting together an arrangement – then just add flowers.
3. Mix colours based on either similar or contrasting tones 
Everyone has their favourite flowers but mixing different types and colours, and knowing what works with what, can be a challenge. When mixing colours, either keep to the same palette (for example, reds with pinks and oranges) or go contrasting but still keep to the same colour line (a deep burgundy with a soft blush, for example). 
 4.Use height, colour and texture to create impact
Grouping different types of flowers in an arrangement adds instant impact especially if there's just a simple pop of bold colour. Try wildly different flowers with interesting textures to create a more modern look.
When thinking of textures and shapes, go for something with a big solid head like a rose or a dahlia, and then add a more linear flower like delphinium, or something smaller and multi-headed like lissianthis. This keeps the arrangement from being shapeless. 
Add dimension to the arrangement by having flowers at different heights within the groupings.
 5. Use big blooms to create feminine looks
 If soft and feminine is your thing, you want an arrangement that looks unstructured and a little bit wild in pretty colours. Start by threading in your biggest blooms to your based-up vase. Arrange them at different lengths to add dimension and to keep the arrangement from looking too structured. Then, add in your next biggest bloom or a bloom in a different shape. A pro move is to add a third floral as a filler – choose for your filler a floral that has multiple clusters on the same stem, such as a wax flower or tea tree.
 6. En masse
 The 'en masse' arrangement is very on trend at the moment and it's super easy to achieve. You just fill a vase to overflowing with the one kind of flower or foliage - voila!
 7. Have fun!
 My biggest tip is to play with texture, shapes and colours. At the end of the day there are no rules - mix natives with soft flowers or add in a big tropical leaf or palm husk. The most unique varieties of flowers and foliages are so readily available to us these days. With importation and new hybrids being grown, we are privy to some of the most amazing flowers all year round.