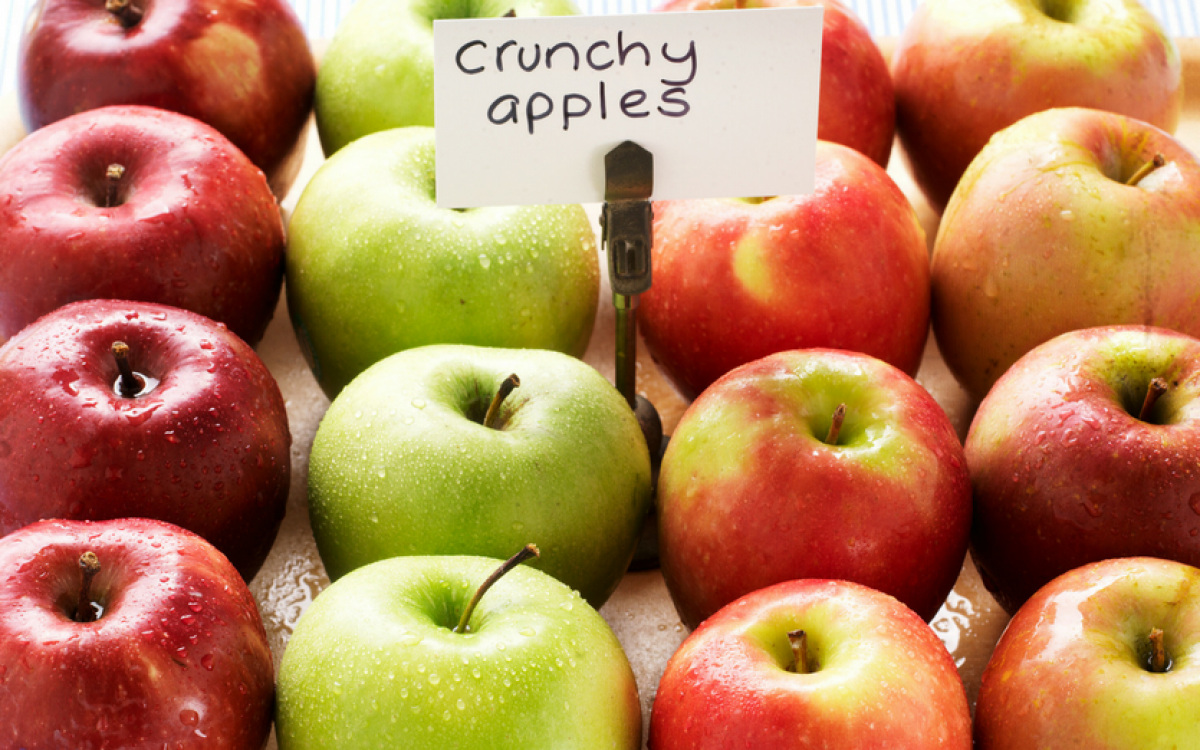 It's crunch time – 8 apples everyone should taste this season.
Posted on May 19, 2017 | Tags: fruit, fruit and vegetables, apples, apple varieties, In Season, Australian apples
Crunchy Australian-grown apples are now at their best in your local greengrocer.
For optimum crispness and flavour, store apples in the fridge rather than in the fruit bowl.
With so many apple varieties from which to choose, we've narrowed down the ones that you are sure to enjoy for their vibrant colour and delicious flavour.
Fuji
This apple is a deep brownish red colour. It has a very dense, crisp and juicy flesh with a honey-sweet flavour. Fuji's are excellence enjoyed fresh or baked. Sometimes Fuji apples develop a brown core, this is a natural occurrence which is due to the fruit's high sugar content. Don't discard, chop and use for cooking.
Golden Delicious
With crisp juicy flesh and golden yellow-green skin, the Golden Delicious is a top apple for cooking and is also great for eating fresh.
Granny Smith
This classic green apple is bright and vibrant with delicious sweet white crunchy flesh. It's at its best for eating fresh in winter. It's also the perfect cooking apple.
Greenstar
Related to the famous Granny Smith apple, the Greenstar has a fresh intense taste, crisp white flesh and outstanding crunch. Owing to its high vitamin C content, this variety tends not to discolour once cut, which makes it perfect to slice or toss into lunch box fruit salads.
Jazz
Subtly sweet with crunchy dense white flesh, the Jazz is small to medium in size but big on flavour. This variety tends not to bruise easily so it's a great on-the-go snack' for busy kids.
Kanzi
This eye-catching glossy reddish-pink apple is new on the market and its season is short. The Kanzi has crunchy dense tangy flesh and is a cross between Royal Gala and Braeburn varieties. It's best stored in the fridge.
Pink Lady
Sweet and crunchy with dense fine flesh and attractive rosy skin, the Pink Lady comes in a range of sizes. The smaller ones are the ideal snack size for little hands.
Royal Gala
Small to medium in size with aromatic sweet crunchy flesh and glossy skin, this immensely popular variety is a great snack apple for active kids.
In season
Select
Choose apples that are firm and smooth with a colour characteristic of the variety.
Store
For maximum crunch and shelf life store apples in the refrigerator. Keep in the crisper section apples will keep for up to one month.
Good For you Apples
A good source of dietary fibre that helps keep us regular.
Provides vitamin C. Among its many functions, vitamin C contributes to collagen which plays a role in healthy gums, teeth, bones, cartilage and skin.
Low GI (less than 55) which means the natural sugars in apples are slowly digested to glucose.
Apple pie filling & great ways to use it
Preparation    
15 mins / Cooking
30 mins
/Makes 2 cups
This delicious mixture tastes like an apple-pie filling. It keeps in an airtight container in the fridge for 5 days.
1.5kg Golden Delicious or Granny Smith apples
Juice of 1 lemon
1¼ cups water
2 tbs cornflour
⅓ cup caster sugar
1 tsp ground cinnamon
½ tsp ground nutmeg
Step 1: Peel, core and chop apples into 2-3cm pieces. Place into a large bowl. Drizzle with lemon juice and ¾ cup of the water. Set aside.
Step 2: Whisk remaining ½ cup water and cornflour in a teacup until smooth. Place cornflour mixture into a large saucepan over medium heat.  Stir in sugar, cinnamon and nutmeg. Stir until mixture comes to the boil (it will not be smooth).
Step 3: Add apple mixture and stir to combine. Bring to the boil, stirring often. Reduce heat, cover and gently simmer over medium-low heat, stirring occasionally, for 15-20 minutes until apples are very tender. Set aside to cool in the saucepan.
4 quick ways to use apple-pie filling
Spoon apple pie filling over hot porridge.
Swirl chilled apple pie filling through yoghurt and top with some toasted muesli.
Add apple pie filling to crepe and pancake fillings.
Serve bowls of warmed apple pie filling with a drizzle of custard.