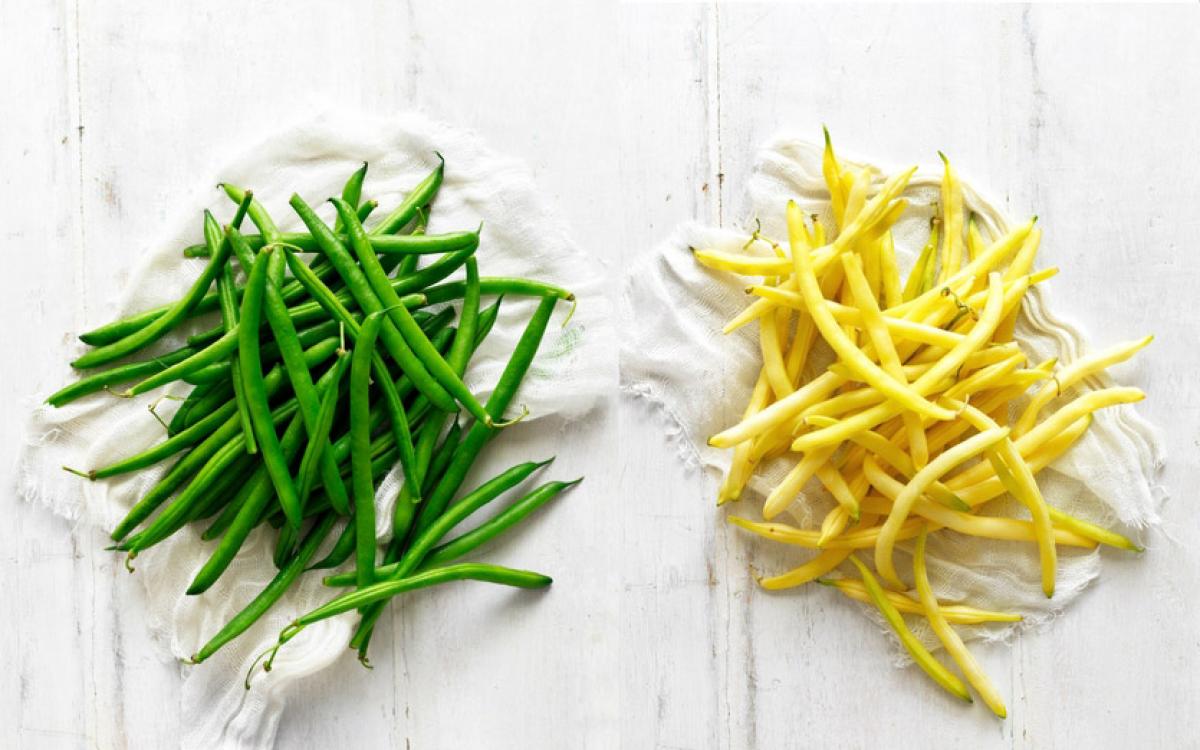 Your guide to fresh and tasty beans
Posted on May 15, 2017 | Tags: beans, fruit and vegetables
Versatile fresh beans abound. Bright and brimming with flavour, beans are delicious serve them with a slight crunch. Add beans whole or sliced into stir-fries, blanched into a cold in salads, soups or serve as a side dish.
Butter beans
Swap green beans for sweet and crisp yellow butter beans. To cook the beans, plunge into a pan of boiling water for 2 minutes until just crisp. Drain and refresh in cold water, pat dry, then add beans to your favourite salads. Alternatively, for a quick side dish, return the beans to the hot dry pan and toss with a drizzle of extra virgin olive oil, crushed garlic, sea salt and black pepper.
Snake beans
Slender snake beans are sold by the bunch and are in peak season from late summer until early autumn. They're quite flexible although they feel firm. Chop beans into bite-sized pieces and add to Asian-style stir-fries, soups, curries and salads. To retain crispness and flavour, rapidly cook the beans.
Green beans
A favourite fresh bean, this stringless variety simply requires the stems to be trimmed before cooking. Like butter beans, they're best cooked rapidly to retain their delicious crunch and vibrant colour. For a colourful summer combo, cook a mix of green and butter beans.
Flat beans
Wide wavy flat beans are cooked in their pods. Drain and refresh in cold water then pat dry. Add a squeeze of lemon juice, a drizzle of extra virgin olive oil then season and toss with crumbled feta to make a delicious side dish.
Beans team well with
Fresh herbs, bacon, prosciutto, onions, almonds, onion, garlic, potatoes, tomato, lemon, feta cheese, pine nuts, olive oil.
Beans with pancetta and garlic crumbs
Preparation: about 15 minutes Cooking: about 10 minutes Serves: 4 as a side dish
2 tbs olive oil
100g sliced pancetta, roughly chopped
2 garlic cloves, finely chopped
1 cup fresh coarse breadcrumbs*
Salt and ground black pepper
500g green beans, topped
2 tsp extra virgin olive oil
* Breadcrumbs made from stale Italian-style bread are ideal
Heat oil in a medium frying pan over medium heat. Add pancetta and cook, stirring often, for 3–4 minutes until crisp. Add garlic and breadcrumbs. Cook, stirring occasionally, for 4–5 minutes until crisp and golden. Season with salt and pepper to taste.
Meanwhile, steam beans in a steamer or boil in a saucepan of boiling water for 4–5 minutes or until bright green and just crisp. Drain beans. Drizzle with extra virgin olive oil. Toss to combine.
Place hot beans on a serving plate. Sprinkle with breadcrumb mixture, season to taste and serve.
Good for you 
Beans provide some iron, which is especially useful for those choosing a vegetarian diet. Iron is needed for making red blood cells, which carry oxygen throughout the body. The vitamin C in beans also helps the absorption of iron. Beans are also a good source of folate, one of the B vitamins that are important for growth and development in children and for normal blood formation at all ages.
Select
Firm, crisp beans with good colour.
Store
Refrigerate beans in a plastic bag in the crisper section.
In Season
| | |
| --- | --- |
| Green beans: | Available all year. Peak supply November to March. |
| Butter beans: | Available December to May. |
| Snake beans: | Available all year: Peak supply December to April. |
| Flat beans: | Available all year. Peak supply June to August. |