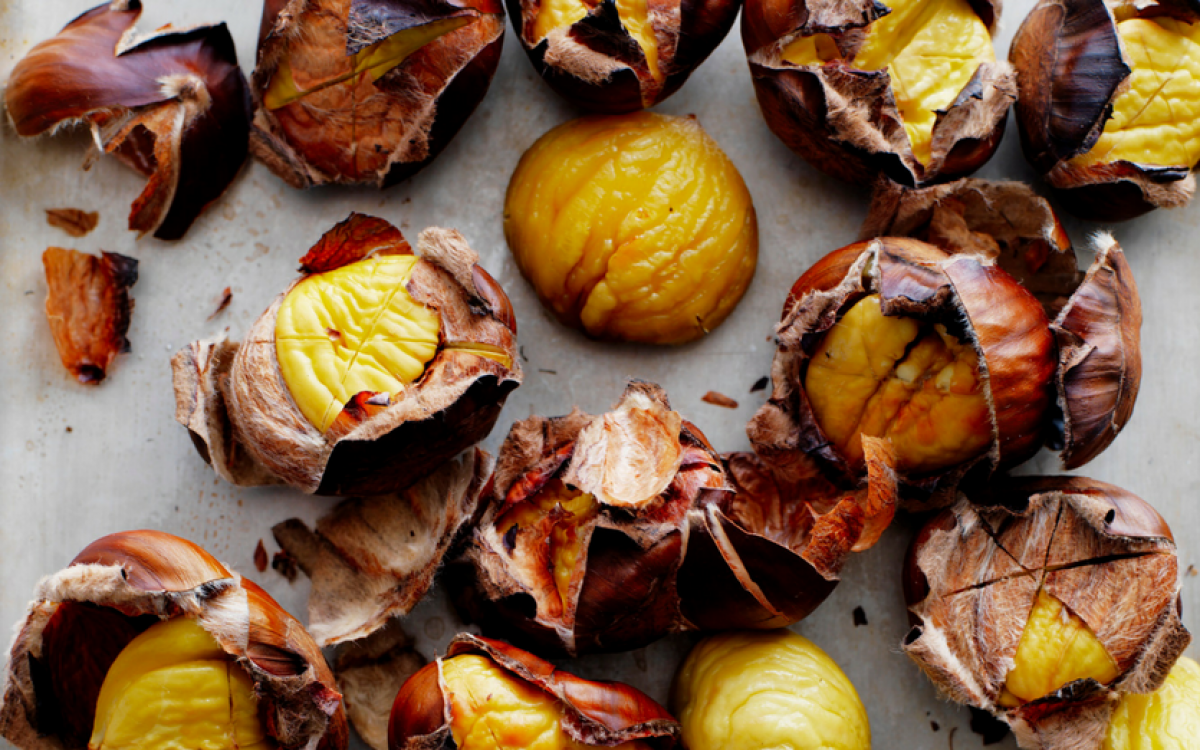 11 scrumptious ways to make the most of chestnuts
Posted on May 04, 2017 | Tags: Chestnuts, Chestnut recipes, How to cook chestnuts | Comments (0)
If you haven't discovered just how delicious and versatile chestnuts can be you're missing out on a real treat. Once experienced you'll be hooked and from that point forward the season will never be long enough.
Keep an eye out at your local greengrocer for the freshest Aussie chestnuts, the season starts in March and runs through until July.
Chestnuts have a delicate, unique flavour and a roast-potato like texture making them perfect for using in a range of sweet and savoury dishes.
Deliciously different chestnuts are not like other nuts they need different preparation and nutritionally chestnuts are
Low in fat
A source of vitamin C, folate, potassium, antioxidants and dietary fibre
Gluten free
Low in kilojoules, a 30 gram serve provides 217kJ (52 cals).
3 essential steps to perfect chestnuts
Choose
Select medium to large, firm, glossy deep-brown chestnuts that feel heavy in size. Fresh chestnuts must be cooked before using.
Preparation
To prevent the chestnuts from bursting while cooking, cut a small cross on the flat side of the chestnut shell. If boiling, cut the chestnuts in half across the width of the chestnut before cooking.
Peel
Once cooked, peel off the tough shell and papery thin skin underneath, it is important to peel chestnuts while they are still warm (they can be tricky to peel once cooled). Remove from heat, wrap in a clean tea-towel for 5-10 minutes, and then peel quickly. If boiled, leave chestnuts in the hot water removing one at a time to peel.
Cooking chestnuts
Boil
Place cut chestnuts into a pan of cold water, bring to the boil, cover and simmer for 15-20 minutes or until flesh is tender and the shell comes away easily.
Roast
Preheat oven to 200ºC. Place chestnuts onto a baking tray and bake for 15-20 minutes or until the shell splits opens.
Microwave
Place 6-8 chestnuts in a single layer on a microwave-safe plate. Cook, uncovered, on 850 watts/High/100% for 2-3 minutes or until flesh is tender.
Grill and barbecue
Cook, turning occasionally, in a pan over medium heat for 20-30 minutes or until shell splits open.
Tips
Some varieties are easier to peel than others, check with your greengrocer. One kilogram of chestnuts yields approximately 700g of shelled and peeled chestnuts.
Cook, peel and freeze chestnuts so you have a ready supply on hand to add to your favourite meals.
Freezing
Cooked chestnuts freeze well and keep for 6 months. Cook fresh chestnuts then peel and place cooled chestnuts in snap lock bags and freeze. Defrost.
Delicious ways to enjoy chestnuts everyday
There are so many savoury and sweet ways to use chestnuts every day.
Add sliced chestnuts to stir-fries.
Pop scored chestnuts in a roasting pan with veggies.
Stir, peeled and shelled chestnuts, chopped chestnuts through lentil and rice dishes.
Puree with mashed potato or sweet potato.
Coat cooked and shelled chestnuts in olive oil, dust with chilli flakes and warm in a hot oven.
Add a handful of sliced chestnuts to mincemeat meals like spaghetti Bolognese, San Choy Bau or add to casseroles.
Puree cooked chestnuts with olive oil, garlic, tahini and lemon juice to make a dip.
Warm cooked and peeled chestnuts in a pan with cooked bacon and toss through cooked Brussel sprouts
Mix cooked, shelled and chopped chestnuts with dried apricots, breadcrumbs, sage and sautéed onion and add a little milk. for chicken, turkey, quail or pork
Team chestnuts with
Chestnuts team deliciously with chocolate, vanilla, coffee, dried apricots, cranberries, prunes, brandy, cream, fennel, parsnips, pumpkin, cabbage, cauliflower mushrooms, red wine, fennel, celery, sausages, game, pork and poultry.
Where are chestnuts grown
Today there are around 300 commercial growers across Australia. 75% of Australian chestnuts are grown in North-East Victoria around the townships of Beechworth, Stanley, Bright, Mt Beauty, Wandiligong and Myrtleford. The remaining harvests are from East of Melbourne, Batlow, Orange, the Blue Mountains, the Southern Tablelands in NSW, the Adelaide Hills in SA, South West Western Australia and North West Tasmania.
Chestnut and bacon crumb with green beans
Jazz up your beans with this tasty and easy to make recipe. The nutty flavour of the chestnuts embellishs the beans, it is also delicious served over steamed cauliflower, carrots, Brussels sprouts and broccolini.
Recipe provided by Chestnuts Australia
Chestnut & bacon crumb with green beans
Prep 15 minutes | Cook 10 minutes | Serves 4
1 tbs olive oil
125g rindless bacon, finely chopped
1 garlic clove, finely chopped
200g shelled and cooked chestnuts*, roughly chopped
350g green beans, trimmed
1 tsp finely grated lemon rind
Step 1:  Heat oil into a large frying pan over medium-high heat. Add bacon and cook, stirring often, for 3 minutes. Add garlic and chestnuts and cook, stirring often, for 2-3 minutes or until chestnuts are golden and bacon is crisp.
Step 2: Meanwhile, plunge beans into a medium saucepan of boiling water, cover and bring to the boil. Cook beans for 2-3 minutes or until just tender. Drain beans. Add beans to chestnut mixture. Toss over heat until well combined. Season to taste. Sprinkle with lemon rind and serve.
Good for you
Chestnuts are a source of vitamin C which contributes to the normal functioning of the body's immune system.
Chestnuts provide some dietary fibre which helps the intestine function normally. They are also a source of potassium which may help balance the sodium from salt.