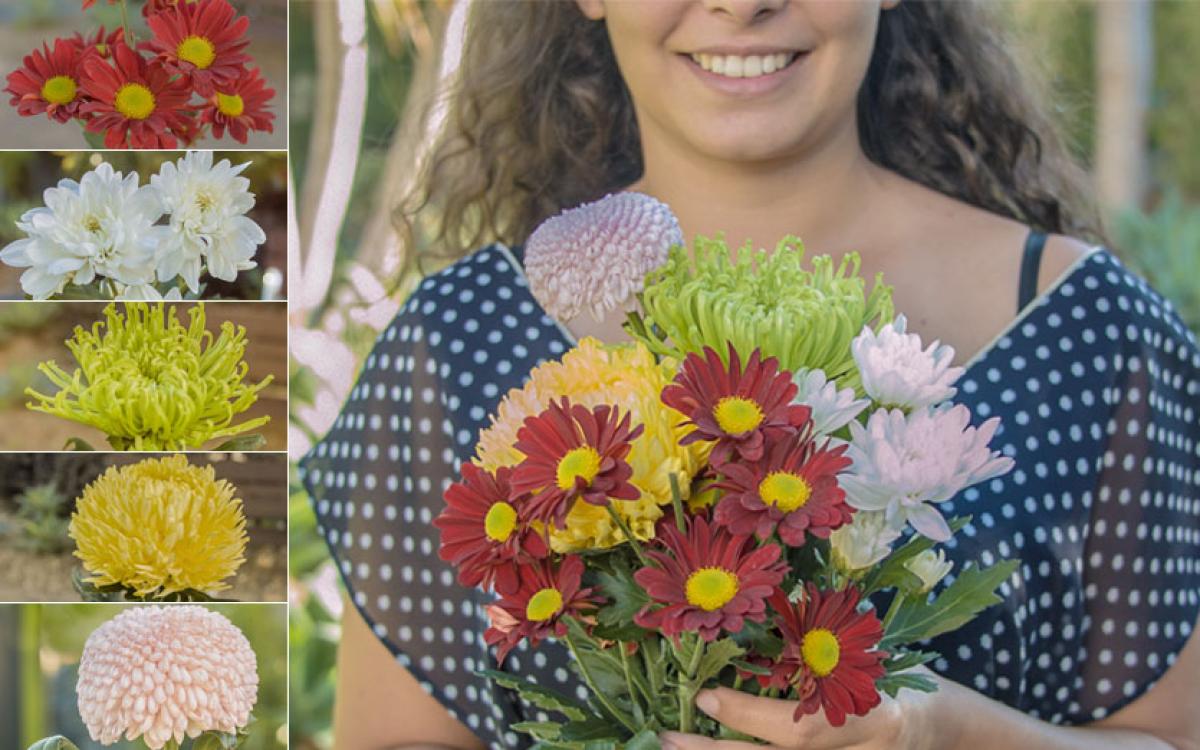 5 different types of Mums – which would you pick?
Posted on May 06, 2019 | Tags: flowers, chrysanthemums, Mother's Day
To thank our wonderful mums for all their hard work, the perfect Mother's Day gift is most definitely flowers, and the most popular of all is fragrant and brightly coloured chrysanthemums.
So with the big day just around the corner, Sunday 12th May to be precise, we set out to find out everything there is to know about our 'mums' of the floral variety.
Here we interview chrysanthemum growers, explain the difference between the five most popular types of 'mums' and give helpful tips to make them last longer.
Second-generation grower David Giansante wouldn't want to produce any other flower than the chrysanthemum at his family-run business Linton Flowers in Horsley Market, Sydney.
  Flower grower David Giansante
 The allure of the classic memorable aroma, along with the age-old tradition of Australia's most popular Mother's Day flower, has David firmly under the spell of the 'mum', as it's so affectionately known around the nation.
"Mother's Day is 10 times busier for florists than Valentine's Day," says David, whose unique 'crazy spider' chrysanthemum is always a sell-out.
 Sydney Flower Market  grower Joe Olivieri, one of three brothers who run Olivieri's Flowers at Doyalson North,  says "Daisies have a flatter flower, disbuds look like pom-poms, and Polaris are the decorative type most popular for Mother's Day,"  There's also an art to growing them."
 Chrysanthemums flower in autumn because their blooming is triggered by shortening days.
 We're all aware that flowering can be affected by temperature but it's less well known that light levels play an important role, too.
 This means that chrysanthemums in glasshouses can be manipulated to have their flowering occur on cue.
 Here are just a few of the other popular varieties of chrysanthemum your favourite florist will have in stock this Mother's Day
Red – Daisy Chrysanthemum
Red Daisy chrysanthemum is covered in stunning red daisy flowers with yellow eyes at the ends of the stems. The flowers are excellent for cutting. Its fragrant ferny leaves remain dark green in colour too throughout the season.
White - Polaris
 This tried-and-true favourite with traditionalists has been putting a smile on mums' faces for longer than most. Available in white, cream, yellow, and shades of pink, the Polaris is a mainstay of almost every bouquet because of its versatility and long-lasting qualities – up to 10-12 days.
Green – Spider
Appropriately named for their long, curling petals that look like spiders sitting on top of stems, spider mums are revered as one of the more unusual chrysanthemum plant types.
Yellow – Disbud
 So named because this varietal has just one single large flower per stem, produced by moving all the side buds when the plant is still young. With an eye-catching bloom 7-9cm in diameter, a yellow disbud makes the perfect focal flower for any Mother's Day 'mum' arrangement.
Pink – Pompom
 A small globular bloom, somewhat flat when young, but fully round and bursting with character when mature. Size ranges from small button types to large disbudded blooms almost 10cm in diameter. The florets incurve or reflex in a regular manner and fully conceal the centre.
7 Tips To Look After Your 'Mums
 Chrysanthemums are a forgiving flower and have a good vase life. Even still, it's handy to know these little tricks to keep them vibrant for longer.
 

Ensure your vase or vessel is very clean.

Chrysanthemums have a woody stem, so you need to help them absorb water. Before placing them in a clean vase, trim 2 to 5 cm off the stem base at a sharp angle. Every few days, trim 1 cm off the stem to aid water absorption.

Place flowers in clean tepid water, enough for them not to go dry quickly- about half the vase full.

Strip leaves that would be below the water line.

Remove leaves from the stem when they start to droop.

Change the water regularly.

For a maximum vase life and display, don't mix chrysanthemums with other flowers. They release a chemical called ethylene, which may cause other flowers to wilt quickly.
What the colours mean
Chrysanthemums generally symbolise longevity, fidelity, joy and optimism. Various colours symbolise other important meanings as well.
Red chrysanthemums symbolise love and devotion.

Yellow chrysanthemums symbolise happiness and joy.

White chrysanthemums symbolise loyalty and honesty.

Violet chrysanthemums symbolise a wish to good health.