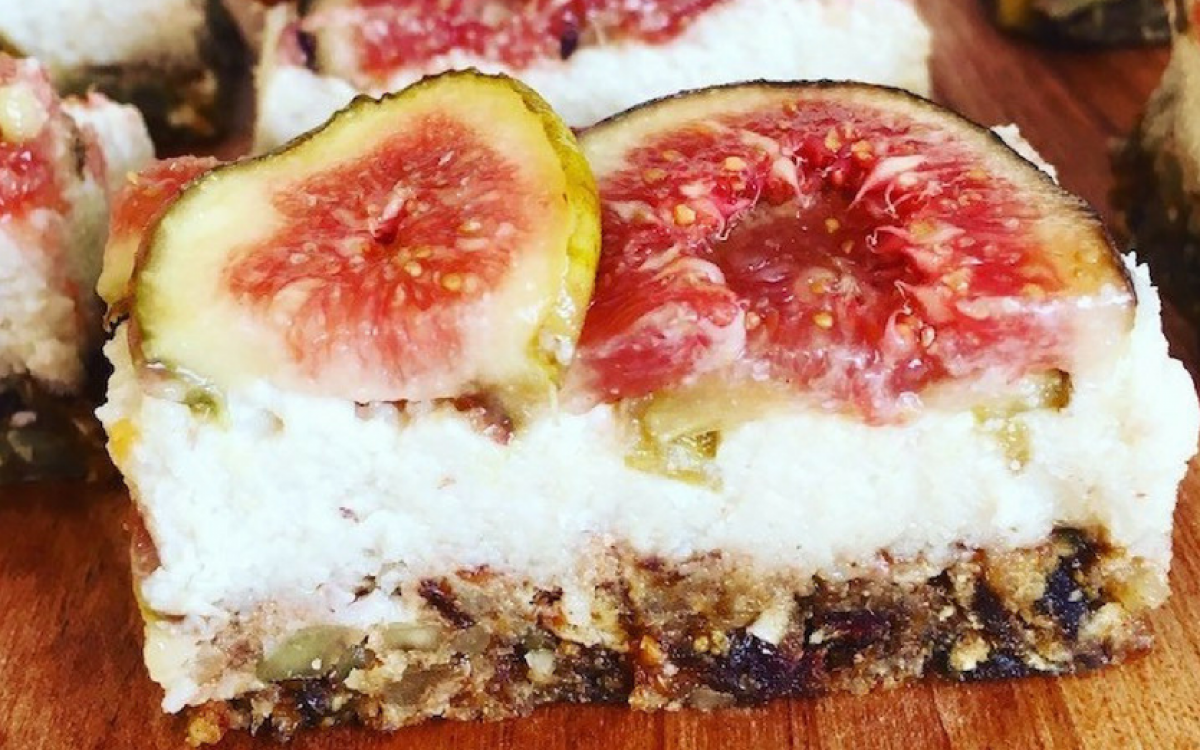 Must try raw, vegan fig coconut slice
Posted on Apr 11, 2017 | Tags: shennANNAgens, figs, raw, no cooking, fruit and vegetables, fruit
Imagine if Heston Blumenthal planted a tree blessed by the Dalai Lama at the top of Mount Kilimanjaro and watered it with pure dragon blood until maturity where it sprouted into a sparkly explosion of pure awesomeness. That's what this Raw Vegan Coconut Fig Slice is!
Every year when fig season comes about, I am transported to a time when toga clad Romans drank wine and feasted on such luscious fruit – it really is no wonder figs are considered to be the nectar of the Gods.
I love the taste and texture of fresh figs. They're delicious cooked, hot baked figs with gorgonzola and prosciutto or fig chicken tray bake… Mmmm, but eating the entire fruit raw, skin and all is one of life's most glorious flavours too.
I wonder if those Romans knew the healthy benefits packed in to a fig? I'm talking a wealth of beneficial nutrients, including vitamin A, vitamin B1, vitamin B2, calcium, iron, phosphorus, manganese, sodium, potassium and chlorine. But I gotta admit to not thinking about the nutritional value and simply devouring them because they taste so dang good!
I've used fresh figs as a decorative element and dried figs so the sweetness permeates through the entire slice. The ingredients in this slice are loaded with healthy goodness, which makes this snack a great alternative for people wanting to maintain a clean eating regime (especially awesome when the 3pm slump sets in!).
Friends, let me tempt your taste buds with this completely raw, vegan, sugar-free, dairy-free, gluten-free and absolutely SCRUMPTIOUS and "YUMMY Raw, Vegan, Fig Coconut Slice.
Raw, Vegan, Fig Coconut Slice
Preparation time: 15 minutes   Cooking time: 0 minutes  Serves: 16 snack size portions
Walnut Fig Base
½ cup walnuts
¼ cup raw almonds
2 tbsp desiccated coconut
2 tbsp flaxseeds
½ cup dried figs
½ cup Medjool dates (pitted)
½ tbsp water
½ tsp cinnamon
 Vanilla Coconut Macadamia Cream
½ cup macadamias
½ cup coconut milk
½ cup desiccated coconut
2 tbsp maple syrup
½ tsp vanilla bean paste
Fresh fig slices to decorate
 1:    To make the base, add all base ingredients into a food processor and process until the mixture sticks together when pressed between the fingers.
 2:    Line a tray (I used an 8 inch square baking tray OR 20 x 20 x 5cm) with cling wrap or baking paper.
 3:    Spoon mixture into tray and carefully spread over the base to form a completely flat and even base.
 4:    Pop into the freezer while you make the vanilla coconut macadamia cream.
 5:    For the coconut cream, add macadamias to a clean food processor and process for a few minutes.
 6:    With the food processor still running, slowly add the coconut milk, maple syrup and vanilla bean paste. Keep processing until the mixture becomes very smooth and creamy.
 7:    Add desiccated coconut and pulse to combine.
 8:    Pull the walnut fig base out of the freezer and pour the coconut macadamia cream filling over the base.
 9:    Put the tray back into the freezer and allow set for 2 hours. You can keep the slice in the freezer until serving (allow 15 minutes to defrost and for the cream to soften).
 10: When you are ready to serve, decorate with fresh fig slices and cut slice into desired shape. Enjoy!
Good For You
A source of dietary fibre which helps with normal laxation. The fibre is concentrated in the fig seeds.
A source of vitamin C, which contributes to the normal functioning of the body's immune system
Select
Choose, plump sweetly fragrant figs, which feel heavy for their size.
Store
Ripen at room temperature can be stored in the refrigerator for 1-2 days.
In season
The peak season for fresh figs is December to May.