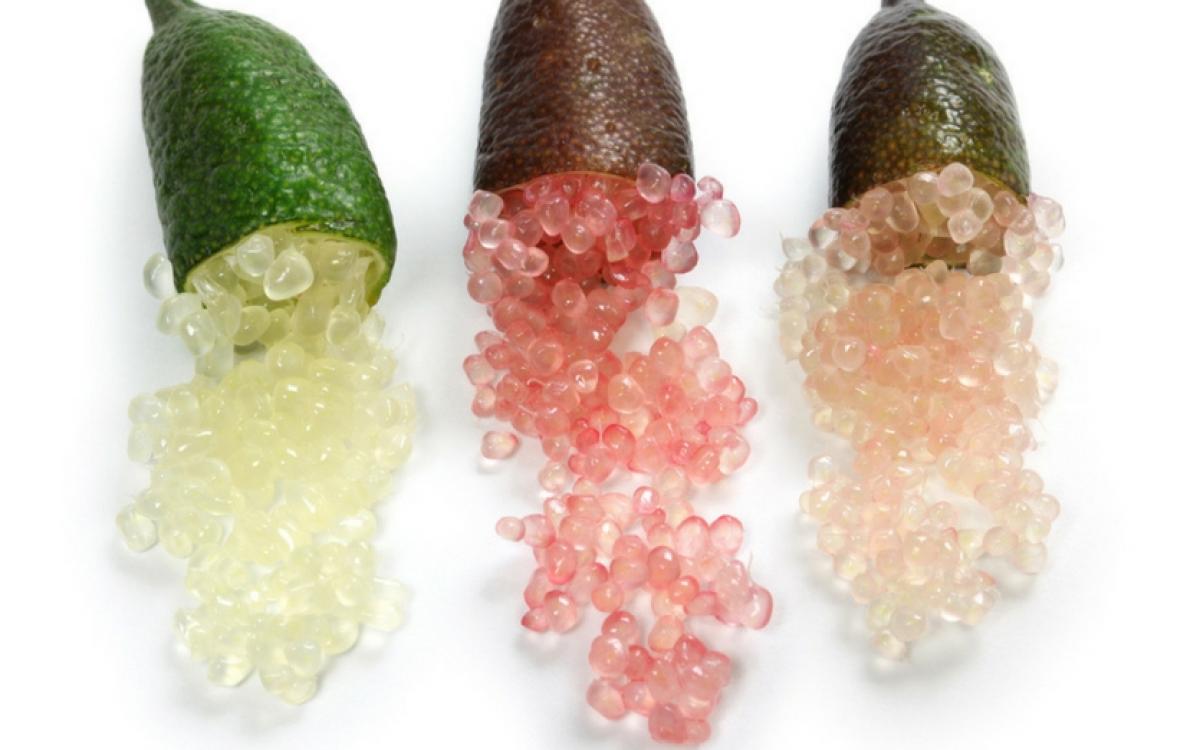 Citrus caviar and how to add a burst of tangy flavour.
Posted on Mar 13, 2018 | Tags: finger limes, fruit and vegetables, Australian native, citrus
Fresh finger limes are one of the most exciting new ingredients to discover at your local greengrocer. This unique Australian citrus has an exquisite burst in the mouth citrus flavour, the intensity of flavour and acidity levels spans from zing lime to sweet pink grapefruit. Its texture has been compared to caviar, as it delivers an enjoyable "pop in the mouth" feel on chewing,(similar to caviar) and that's why it is fondly known as "citrus caviar".
Chefs around Australia and globally are fast discovering the endless possibilities for serving up this wonderful citrus, and now you can find them from January to April at your local greengrocer. Finger limes are native to the rainforests of SE Queensland and Northern NSW, and are grown commercially between Noosa in QLD and Bryon Bay in NSW and the west coast around Pemberton in Western Australia.
The finger shaped fruit are 6-12 cm in length and depending on variety their thin, leathery rind can range in colour from green, yellow, marron, pink to bright red. The fruits edible pulp consists of hundreds of tangy flavoured, fish roe like, juicy pearls known as vesicles, that can vary in colour from clear to pale icy pink, hot pink, red, bright yellow, pale green or vibrant green .
WHAT'S THEIR APPEAL?
This versatile indigenous citrus offers a burst of refreshing, zingy citrus flavour, together with a delightful crisp texture. It's decorative, colourful and perfect for balancing reduces richness in a dish. Fingers limes work well in sweet and savoury dishes adding a zesty vibrancy to fish, crustaceans, oysters, scallops, smoked eel, crème fraiche, yoghurt, vodka, gin, beer, sparkling wine, avocado, cucumber, asparagus, melons, papaya, stone fruit, mango, custard apple and you will be surprised how delightful finger limes tastes when served with a chocolate mousse or tart.
PREPARATION TIPS
Always cut open a finger limes crossways, not lengthways and then slowly squeeze out the 'citrus caviar', just like squeezing toothpaste from a tube.
7 DELICIOUS WAYS TO USE FINGER LIMES
1. Add finger limes to martinis, cocktails, spirits, champagne or beer.
2. Add a burst of citrus flavour to fresh and smoked seafood dishes.
3. Take savour butters and curds to a new level.
4. Add vesicles to seafood and seasonal salads and dressings.
5. Garnish sashimi, sushi, ceviche, seafood tarte or oysters for a delicate crunch and flavour.
6. Reduce richness and add a new level of flavour to cheesecakes, creamy citrus desserts or sprinkle over a Pavlova.
7. Add finger limes to gelatos and granitas mixtures.
Good For You
Finger limes are a very good source of vitamin C which helps the normal functioning of the body's immune system. 50g of finger lime will supply the daily need for vitamin C. They are also a very good source of dietary fibre which is needed for normal laxation and provides potassium which may help balance the effects of sodium from salt.
Select:
Choose firm, glossy fruit which feel heavy for their size. Most greengrocers will sell fruit in a ready to go punnet.
Store:
Finger limes have a shelf life of between 3-4 weeks. Refrigerate in a paper bag to keep dry. For longer storage, freeze finger limes for up to 3 months. Defrost in the refrigerator.
In season:
January to April.