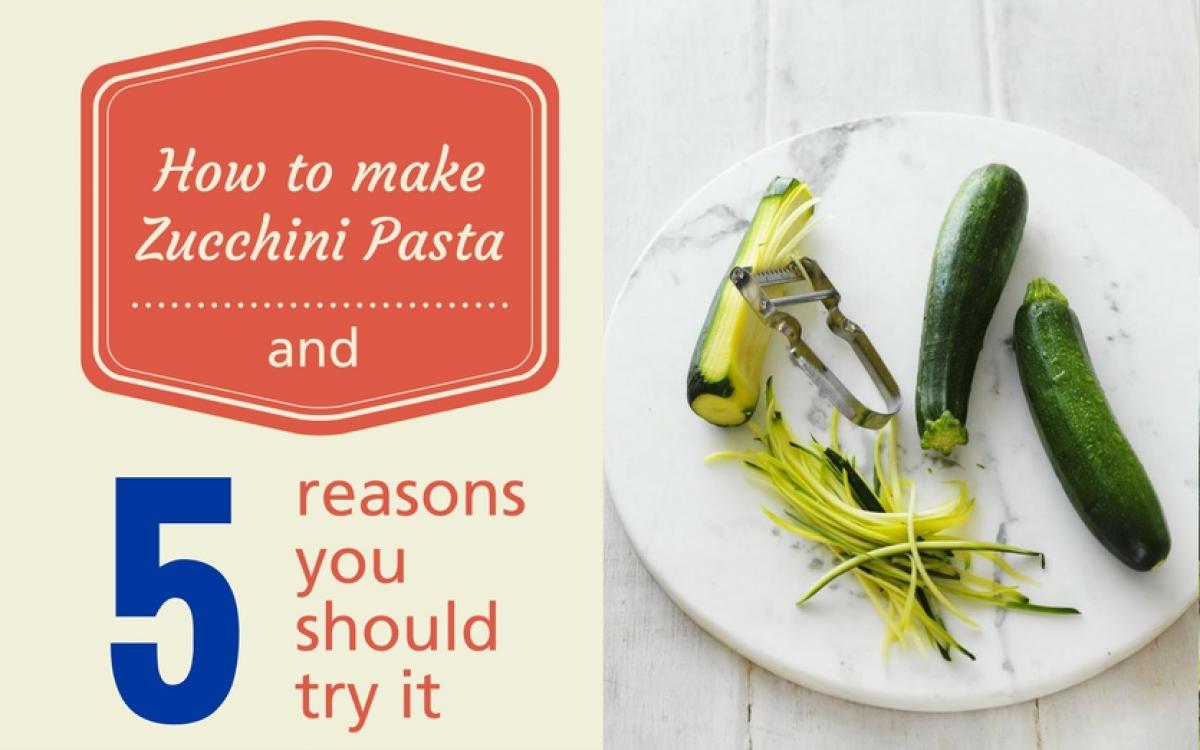 How to make zucchini pasta and 5 reasons to try it.
Posted on Mar 28, 2017 | Tags: fruit and vegetables, zucchini, vegetarian
Are you still apprehensive of getting on the trendy food wagon that is turning a vegetable into spaghetti strips?
Here are 5 good reasons to try zucchini spaghetti, also known as zoodles.
Zucchinis are in season.They are versatile and great value, especially the larger ones.
Zucchini spaghetti is gluten-free and carb-free. It is also a good source of vitamin C, folate and contains fibre.
It's a refreshing, light alternative to traditional spaghetti dishes.
Zucchini pasta has a fresh delicate flavour and only takes a few minutes to make and cook.
It's not too late to get discover how easy and delicious this pasta alternative is, so give it a try and share it with family and friends.
How to make zucchini spaghetti
It's very easy to make with the right tools – either a julienne peeler or spiralizer. You can find these from kitchenware stores.
Julienne peeler - stainless steel cook's tool looks like a wide-bladed vegetable peeler with a serrated edge rather than a straight blade. Use it to slice the zucchini lengthways into long shreds.
Spiralizer - hand-cranked kitchen gadget designed to cut vegetables into 'spaghetti' or ribbons.
TIP
Buy larger zucchinis so you can make longer 'spaghetti' strands and it's also more cost effective.
Once you've mastered the hipster feat of turning zucchini into spaghetti, here's a zucchini spaghetti recipe to try:
Prep time: 20 mins
Cooking time: 40 mins Serves: 5
800g zucchini
2 tbs olive oil
2 garlic cloves, finely chopped
1 long red chilli, seeded and thinly sliced
2 tbs mini capers, drained
2 tbs lemon juice
425g can tuna in oil, drained and roughly flaked
75g feta cheese, crumbled
Lemon wedges, to serve
Cut zucchini into spaghetti using a julienne peeler or spiralizer. Set aside.
eat oil in a large non-stick frying pan over medium heat. Add garlic, chilli and capers and cook, stirring for 1 minute.
Add zucchini and lemon juice and cook, tossing occasionally, until heated through. Toss in tuna and feta. Season with salt and pepper to taste. Service with lemon wedges.
TIP:Speak to your green grocer about the variety of chillies available. Leave seeds for more heat.
Good For You
Zucchini are a source of vitamin C and folate. Vitamin C helps us absorb iron from foods and both these vitamins contribute to the normal functioning of the body's immune system.
Dark green zucchini varieties contribute some beta carotene, an antioxidant pigment which the body can convert to vitamin A.
Select:
Choose firm, glossy, evenly coloured zucchini skin that feels heavy for their size.
Store:
Keep in a sealed plastic bag in the refrigerator crisper. Use within 3-4 days.
In season:
Available all year round, in peak supply November to January.