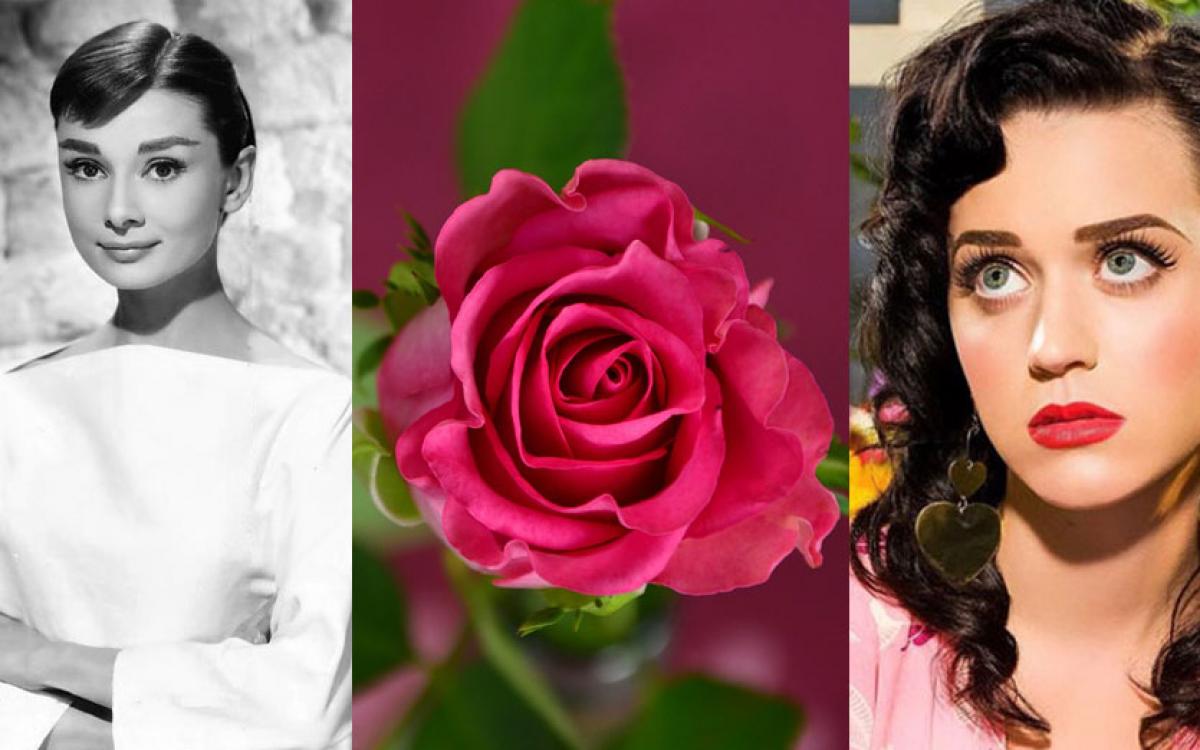 From Katy Perry to Madonna: 9 celebrities beloved favourite blooms
Posted on Mar 24, 2017 | Tags: flowers, celebrity
Does your favourite A-lister share your love of lilies? Here we count down the flower choices of nine celebrities as an insiders' guide to what their beloved blooms say about their personality.
1. Katy Perry
Pop princess Katy Perry likes to buy fresh flowers every day. When Katy isn't recording albums, or kissing girls, the singer indulges in picking out some white and purple hydrangeas or pink and white peonies. Hydrangeas were first discovered in Japan and the beautiful mix of colours are determined by the acidity level of the soil. The name comes from the Greek word 'hydor', meaning water and 'angos' meaning jar or vessel. Hydrangeas need a lot of water and are cup shaped, so very much suit their name. The hydrangea is representative of heartfelt emotions.
2. Scarlett Johansson
The sultry actress Scarlett Johansson always decorates her home with fresh flowers when she is not on film sets. Her flowers of choice are lilies and roses, although she has expressed her love of the smell of freesias.
Freesias, nicknamed Ballerinas, are originally from South Africa and are said to symbolise friendship and innocence. The most fragrant of the flowers are the pink and white varieties.
3. Audrey Hepburn
The iconic actress Audrey Hepburn's grace and beauty was showcased throughout her body of work such as Breakfast at Tiffany's and Roman Holiday. This unique combination of strength and elegance is mirrored in her flower of choice, the lily of the valley.
The lily of the valley is also known as Mary's tears, and in Christian legend, it is said to have sprung from the weeping of the Virgin Mary during the crucifixion of Jesus. Another elegant and rare woman, the Duchess of Cambridge, Kate Middleton, featured the lily of the valley in her bridal bouquet.
4. Jennifer Lopez
Singer J-Lo always opts for white lilies and roses. Her love of white flowers even led to a rumour that Jennifer always requests her dressing room to be pre-furnished top to toe with white furniture, candles and flowers.
White lilies are symbolic of fertility and purity. Greek brides wore flower crowns made of lilies on their heads to represent their virginity. Similarly, in Christianity, the white lily is reflective of the Virgin Mary's purity.
5. Michael Jackson
The late Michael Jackson was renowned for his energy and exuberance, so it's not surprising his go to blooms were sunflowers. So much so that his family requested they be placed on his burial site after his tragic death in 2009.
The sunflower's meaning varies depending on the culture. In Greek mythology it is related to adoration and loyalty, whereas in China it is associated with long life, good fortune and vitality. In Native American culture the sunflower reflects harvest, bounty and nourishment as their seeds are edible.
6. Madonna
Although pop powerhouse Madonna is not known for her purity and innocence (have you seen some of her outfits?), her favourite flower, the white rose, is.
White roses are also considered to be a sign of courage, which is more relevant to Madonna and her ground-breaking music, fashion and film-clips. This white bloom is the provincial flower of Yorkshire in England.
7. Paris Hilton
Heiress and socialite Paris Hilton is notoriously a fan of all things pink. Her preferred flowers are carnations and roses. With her luxurious lifestyle, she is undoubtedly never in short supply of exquisite floral bouquets and flower crowns.
Carnations are simultaneously delicate and durable. The scientific name of the carnation is translated to 'flower of love' or 'flower of the gods'. They have been associated with the qualities of fascination, distinction, and love. Although not relevant to Paris Hilton, carnations have also became associated with Mother's Day.
8. Angelina Jolie
ActressAngelina Jolie evokes images of strength and sensuous beauty so it is no wonder that her favourite bloom is the orchid.
Although one of the most common flowers in the world, with over 25, 000 species, Orchids represent luxury, beauty and love, all of which ring true with Angelina. The plants are geometric and symmetrical, and known as the Chinese symbol of spirituality. The orchid was also the inspiration for a novel that Charles Darwin wrote on cross-pollination.
9. Edith Piaf
Edith Piaf may have sung about 'La Vie En Rose' but the French chanteuse loved chrysanthemums.
The chrysanthemum is the perfect flower to show lasting friendship, loyalty and platonic affection. Additionally, it is ideal for people who are in need of rest and recovery. The flower is also symbolic of truth, perfect for Edith's honest and emotional artistry.
Over the centuries, various meanings have been given to flowers. These meanings have developed, changed or been lost altogether through the years. What's the meaning of your favourite flowers.