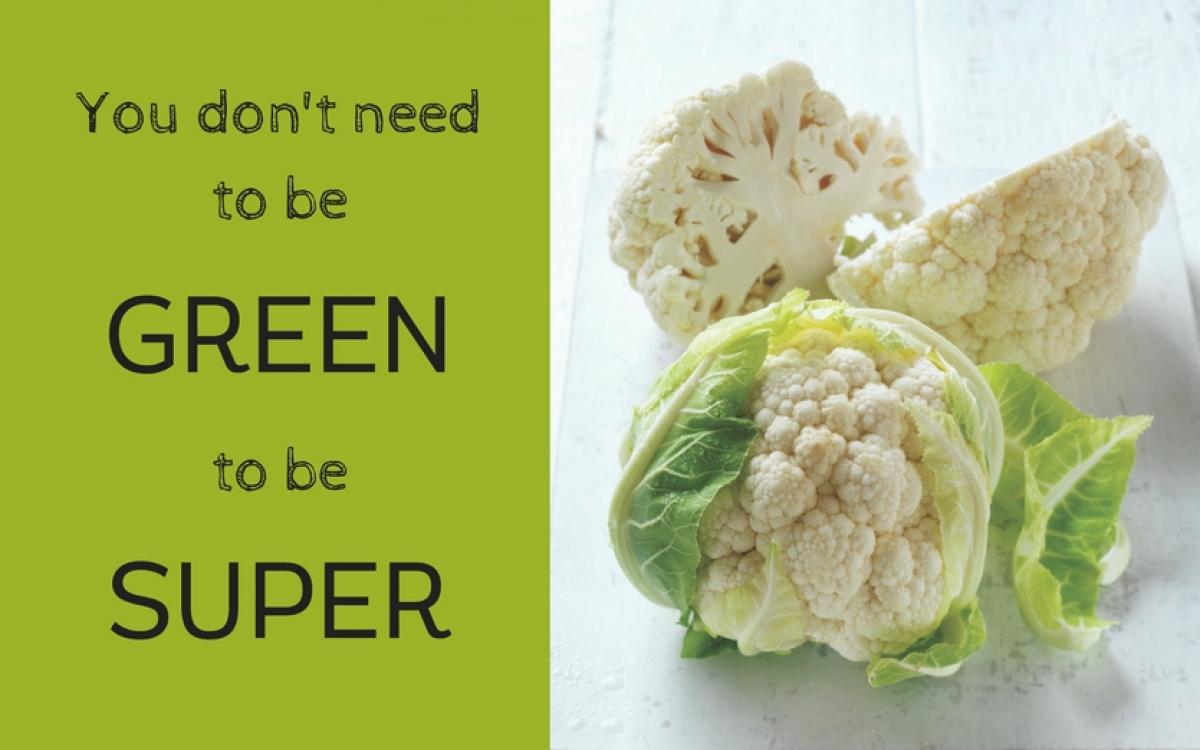 You don't need to be green to be super – cauliflower
Posted on Mar 15, 2017 | Tags: Cauliflower rice, cauliflower, fruit and vegetables | Comments (0)
Obviously there are loads of vitamins and nutrients in your leafy greens and kale, but they are not the only superfoods worth adding to your diet.
Say hello to the flower power of cauliflower.  It's in peak season right now and is packed with vitamins, fibre and folate. It's also highly adaptable, delicious roasted, braised, fried, mashed and steamed. It can even be eaten raw in salads and slaws.
Don't think twice – cauliflower rice
Cauliflower really does act like rice, complementing and retaining the flavours of your silky pasta sauces and fragrant curries. Grated it also resembles rice.
The average recommended serving of cooked white, brown or black rice is just ½ cup which is around 678 kilojoules. Alternatively you can enjoy a more filling and tasty 1 cup serve of cauliflower rice (see our recipe below) for under 600 kilojoules with double the health benefits.
How to make cauliflower rice
Preheat oven to 200˚C/180˚C fan-forced. Trim 1 large cauliflower into small florets (untrimmed weight is approximately 1.8kg). Place the florets onto 2 large baking trays lined with baking paper.


Drizzle with ¼ cup olive oil and season with salt and pepper. Toss then spray with olive oil until evenly coated to prevent drying out. Roast cauliflower for 25 to 30 minutes or until tender. Set florets aside to cool slightly.


Using a food processor, process cauliflower in batches until cauliflower resembles rice grains. Reheat in the microwave, if desired.
Good for you
A source of dietary fibre which helps normal functions of the intestine to help keep us regular. 
A good source of vitamin K which is one of the many nutrients contributing to normal bone structure. 
An excellent source of vitamin C, with 100g supplying well over a full day's requirement. This vitamin contributes to normal immune function.
A source of folate, a B vitamin that is important for normal blood cells.
Select
Choose bright white to creamy white cauliflower with firm florets and fresh-looking leaves attached to the stem base. 
Store
Store in a plastic bag in the refrigerator crisper.
In season
Available all year. Peak season April to October.