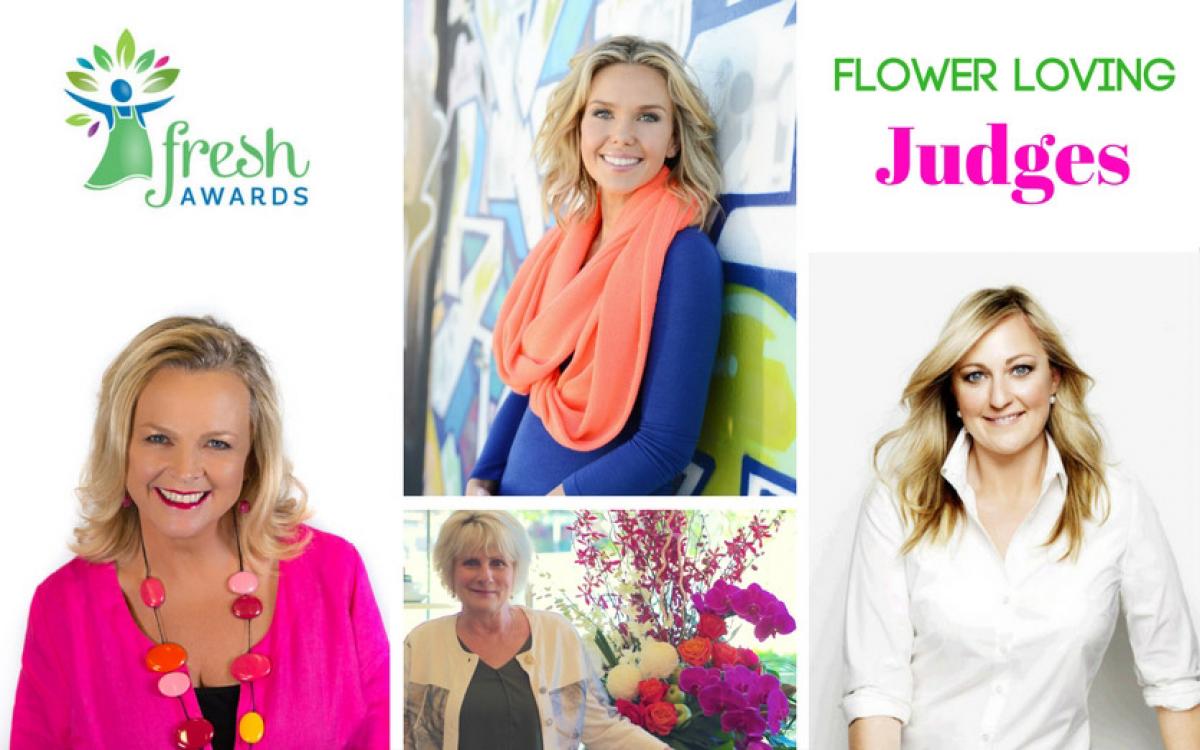 Our Fresh Award judges on their love of flowers
Posted on Mar 15, 2017 | Tags: flowers, the fresh awards, fresh awards judges, fresh awards
It was absolutely mandatory that the judges of the Fresh Awards have more than just a fondness for flowers. These four women absolutely love them.
We spoke to each of our judges about the role that flowers play in their very full lives.
Journalist and television presenter
Unless you're within Edwina's inner circle you may not know that the Sunrise reporter actually has a bit of a knack with flowers – so much so that she's even arranged florals for a few weddings.
Edwina is drawn to abstract arrangements that combine unusual florals such as natives with more beautiful and classic florals.
Q: When was the last time you sent flowers?,
A: Last week to someone for their birthday. I love sending flowers, it's nice to give someone an unexpected delivery. No matter who you are, every woman loves to receive flowers at work. It gives you bragging rights for 48 hours.
Q: When was the last time you received them?
A: Because I buy so many flowers for myself, my boyfriend gave up on getting them for me. He did however buy me some beautiful hydrangeas for our anniversary in January. They didn't survive the heat so well so he tried everything he could to keep them alive when I had to go away for a few days. I came home and had to say 'sorry love, it's time to let them go'.
Q: What's your favourite season for flowers?
A: Spring is a more obvious answer but I love winter because you can get really unusual things that you'd never imagine putting in a vase, like pumpkins. I think you create some really interesting arrangements in winter.
Owner and founder of The Carousel
Don't ask Robyn Foyster to choose between fragrance and colour – the publishing queen loves both. It's good fortune too that her birthday falls in Spring, which just happens to be the only time of year you can get her favourite floral, the Peony.
Q: When was the last time you received flowers?
A client sent me the most exquisite flowers recently with all my favourites in a blend of red, pink and magenta tones. They were Peonies, Roses and Orchids with very high dark foliage helping to make them standout. There's nothing better to put you in an excellent mood.
Q: Tell us about the flowers at your wedding.
Flowers bring weddings to life and become a poignant reminder of your special day for years to come. I wore a flower head piece in my hair of delicate white and slightly yellow tinged lisanthus flowers interwoven with baby's breath. I also had a simple yet elegant bouquet of white lilies.
Q: How do you like to place your flowers?
Flowers should never be put in one place in your house. They deserve attention. I will often create a flower table setting using a neutral palette and set it off with a cascading central floral arrangement of orchids. Then, I love having a posy of magnolias on my bedside table and a bowl of frangipanis floating in water in the bathroom.
Award-winning food and travel writer, and author of The Barber of Budapest and Other Stories
Otherwise known as 'Busy Lizzy', Elizabeth was right in the middle of arranging florals when we got in touch with her. She'd sent a pretty bouquet of Cerise roses and white Oriental lilies to herself in celebration of her son's birthday.
Q: When was the last time you sent flowers?
A: In mid-January, it was my mother-in-law Joan's 87th birthday. My partner, Peter, and I ordered a cheerful arrangement of flowers to be delivered to her on the day. She was delighted.
Q: Tell us about the flowers at your wedding?
A: The flowers I chose for my wedding day in May 1978 were white Phalaenopsis orchids. I remember a beautiful spray comprising huge, pure white flowers in a trailing bouquet. My late mother and my then mother-in-law each wore a single Phalaenopsis in a corsage with a delicate fern arrangement. I am now growing Phalaenopsis orchids.
Q: How do you like to place your flowers?
A: A simple vase of fresh flowers in the centre of my kitchen bench takes me to my happy place. Sometimes I cut sprigs of greenery from my garden, to mix in with stems of flowers I have bought from the florist: tarragon, flax leaves, olive branches and elderflowers.
OAM, prominent media expert on food and wine
Take note if you're going to Lyndey Milan's house for dinner: she'd much rather be given a bunch of flowers than a bottle of wine.
Q: Do you choose flowers based on fragrance or colour?
A: Colour. I love vibrant colour. But I also do love old fashioned roses that really smell like roses.
Q: When was the last time you sent flowers?
A: I don't tend to send flowers. I'm much more likely to give a plant. But I loathe and detest artificial flowers.
Q: When was the last time you received them?
A: I got two arrangements last week – first a gorgeous arrangement of white Lilies from my daughter and son in law. I spent a month being a birth partner for them, as well has helping look after baby. The other arrangement was from a friend, as a congratulations on becoming a "glam-ma".
Found out more about the Fresh Awards