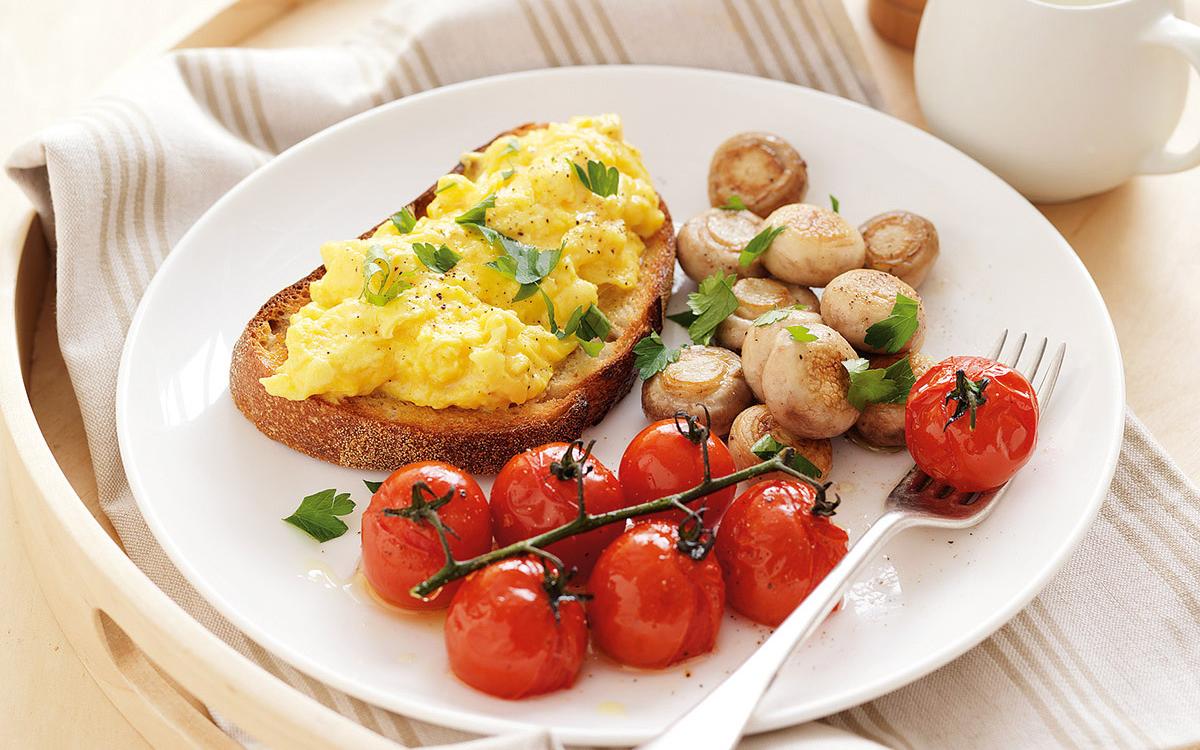 Money savers: 5 Easy café style breakfasts to enjoy at home
Posted on Feb 24, 2017 | Tags: fruit and vegetables, breakfast ideas, easy breakfast, best breakfast
It started with smashed avocado. It got us and the rest of Australia thinking – why are we paying an exorbitant amount for a piece of toast with mashed up avocado? Why spend $20, $40 or $60 for breakfast when you can make the same scrumptious start to your day at home?
Save your money, stay in your PJ's, cook for 20 minutes (more or less) and serve up an easily created delicious (and economical) breakfast. Try these easy, tasty recipes using fresh seasonal fruit and veggies.
Creamy ripe avocados and plump tomatoes are a winning combination, but when teamed with a hard or soft boiled egg and served on sour dough artisan bread, make for a quick and healthy breakfast, brunch or lunch.
French toast topped with a handful of antioxidant rich fresh berries and chunky slices of banana does give you that Parisian nostalgia, even if you've never been. Bon appétit.
This delightful and refreshing combination of papaya, mango, pineapple and toasted coconut, served with a lively lime yoghurt is ideal for the health conscious, a gluten free diet or sun loving, fresh fruit lovers.
For a more substantial and hot breakfast you can't go past umami flavoured mushrooms and bite size oven roasted truss tomatoes served with creamy scrambled eggs and a scattering of parsley. This ticks all the boxes.
Sweetcorn fritters
Vibrant sweetcorn with its delightful crunch and delicate flavour is at its best throughout spring and summer. Serve up a stack of these golden fritters topped with sour and sweet chilli sauce to spice up your morning.
Prep 20 mins | Cook 20 mins | Serves 8
You'll need 6 small bamboo skewers for this recipe.
2⁄3 cup self-raising flour
1 egg, lightly beaten
2⁄3 cup low fat milk
4 sweetcorn cobs, husks and silks removed
3 green onions (shallots), thinly sliced
1⁄3 cup coriander leaves, finely chopped
Rice bran or vegetable oil, for pan-frying
Reduced fat sour cream and sweet chilli sauce, to serve
Sift flour into a large bowl. Combine egg and milk in a small jug. Gradually whisk egg mixture into flour, until batter is smooth. Cover and set aside for 10 minutes.
Slice kernels from the corn cobs. Add corn, green onions and coriander to batter. Season with salt and pepper. Stir to combine.
Heat 1⁄2cm oil in a large non-sticking frying pan over medium heat until hot. Using 1⁄3 cup mixture per fritter, spoon mixture into the pan and gently flatten, cook fritters in batches, for 3-4 minutes on each side until golden and cooked through. Drain on paper towel and keep warm. Serve fritters with sour cream and sweet chilli sauce.