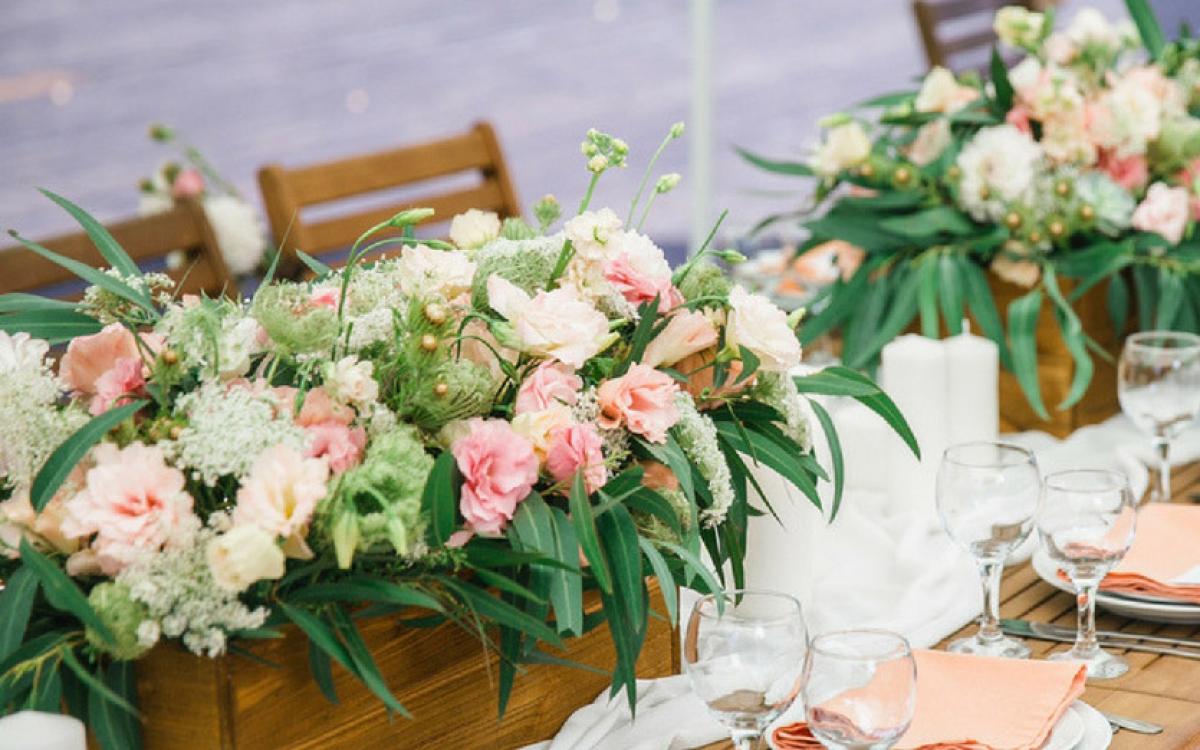 From monochromatic to fragrant, your guide to the perfect floral table setting
Posted on Mar 01, 2017 | Tags: flowers, table setting, table decorations, flower arrangements
If you're hoping to make a big impression on your guests at your next dinner party, forget about splashing out on expensive linen and fancy cheese knives.
Alexandra Oatley, founder and creative director of A Love Affair Floral + Event Design, says flowers are one of the most important elements to transforming a room and creating memorable table settings.
And despite how difficult it might seem, a really impactful floral setting is actually ridiculously easy to achieve when you know just a little bit about what you're doing.
"There are three key things to consider when you start planning your floral table setting," Oatley said. "They are mood or vibe, the space you're working in, and, of course, budget."
To define mood, Oatley has her clients think of three key words that describe what they want their guests to feel or what they're trying to express.
Photo credit: Kat Stewart
When considering the space, Oatley says the most critical element is the size, shape and type of table.
Circular tables lend themselves to one featured piece or a cluster of different size vases, while long tables enable you to run your design along the length of the table. You can then go for fuller or pared back arrangements depending on your budget.
Photo: Jodie McGregor Florist
For classic looks, Oatley recommends pairing big-bloomed, bolder romantic flowers, such as peonies, orchids and roses, with delicate greenery.
Photo: Milton Gan
For more contemporary looks, think sculptural and wild florals, and add branches. You can achieve the 'wild rambling garden' look that's so popular right now by pairing branches with berries.
"Vessels are also integral to achieving your overall look and feel," says Oatley, who has worked with everything from concrete to metal arrangement holders. "You'll want completely different vessels to hold your arrangement if you're going rustic, as opposed to a contemporary or clean look. Brass will give you a beautiful luxe look, but you'll have to put your flowers in a glass vase inside the metal or your flowers won't last long."
If the preference is for monochromatic, Oatley advises still weaving in varying shades of one colour "to add depth and warmth – otherwise it can look quite sterile".
Freelance creative stylist Arrnott Olssen said he uses the menu to guide his theme when designing an arrangement for a dinner table, and avoids fragrant florals "so as not to clash with the aromas of the food".
"I love working with leaves to bring a real outdoorsy feel and I always use locally grown plants in season," says Olssen, who is also editor of the men's lifestyle blog Rogue Homme. "I take a less is more approach – the arrangement is meant to enhance the experience, not take over."
Quick tips from the experts
Start with the mood, consider your space, then work with your budget
Think outside the box when it comes to vessels – or don't use them at all for a scattered, rambling arrangement
Don't be afraid to go nuts – Oatley says she'll sometimes have up to 13 varieties in one vase
Consider how other details can add texture to your arrangement – what can stationery (menus, name tags), votives and your linen, for example, add to the experience?
Don't forget that lighting might completely change the look (and lighting is another important element to setting a mood, according to Oatley)
Make sure your arrangement doesn't get in the way of conversation
Choose florals in season – they'll be fresher and last longer